Timeline Change Imminent!

---

This article contains information that no longer applies to the current version of Star Trek Online. It is provided only for historical purposes.

Four of Ten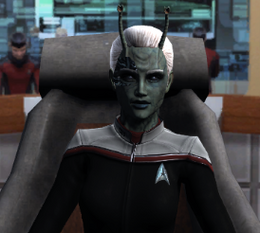 Profession(s):
Mission giver
Captain Four of Ten is a Liberated Borg Andorian commanding the U.S.S. Victory. She serves as a mission giver for Starfleet players on the Borg Front. Federation players will also interact with her during the daily Borg Invasion missions in the various other sector blocks.
Missions involved
[
]
Missions given
[
]
Notes
[
]
Prior to Season 9, despite being a Captain, Four of Ten could be seen wearing a Vice Admiral overcoat.
Four of Ten was removed from the game with the removal of the Battle Group Omega with the August 16, 2016 Patch.