Fire Emblem Warriors: Three Hopes - The Loop
Play Sound

Gaul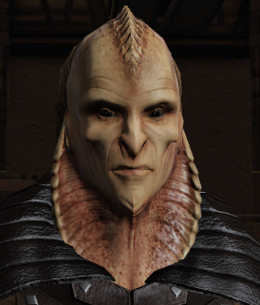 Military Rank:
Vaadwaur Overseer
Gaul is the leader of the Vaadwaur in 2410. He was among those awakened by the U.S.S. Voyager in 2376, and is fanatically dedicated to restoring the Supremacy to its former glory.
Missions involved
[
]
"All That Glitters": Gaul calls off a "renegade" attack on the player in the Shenda System and offers to negotiate a cease-fire with the Delta Alliance at the old Talaxian colony in the Entaba System. However, Gaul's offer turns out to be nothing but a provocation and the talks end in bloodshed.
"Revolution": Gaul attends a rally in the Kartella System. When the player springs a trap that exposes the rest of the Vaadwaur leadership to be infested with neural parasites, some of the Vaadwaur rebel against him and side with Commander Eldex.
"Takedown": Gaul and his remaining forces make their final stand at their homeworld. Gaul is defeated and it is found out that he in fact was not infected by a neural parasite - a fact which Eldex demands not be disclosed to the galaxy at large.
Legacy
[
]
"What's Left Behind": On an Elachi station in subspace, it is discovered that it actually was the Iconians who not only gave advanced technology to Gaul's people, but also had the Solanae bio-engineer neural parasites in order to control the Vaadwaur. It becomes clear that, even without such a parasite, Gaul was nothing but a pawn in an Iconian game.
Note
[
]
External links
[
]
---