Ghee P'Trell
Timeline Change Imminent!

---

This article contains information that no longer applies to the current version of Star Trek Online. The character has been removed as part of the Victory is Life expansion, released on June 5, 2018.

Ghee P'Trell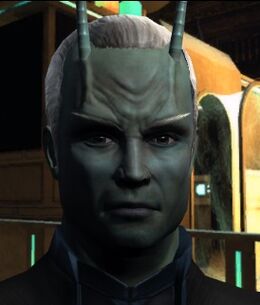 Military Rank:
Chirurgeon
Chirurgeon Ghee P'Trell is a medical researcher specializing in gerontology. For his remarkable research in that field, P'Trell had been nominated for the prestigious Carrington Award in 2371.
The Federation Science Council has given P'Trell permission to test various forms of genetic modification to find treatments for degenerative diseases such as the Irumodic Syndrome. P'Trell is also familiar with genetic augmentation and its history, including Khan Noonien Singh.
---