Glikar'ma Ice Spider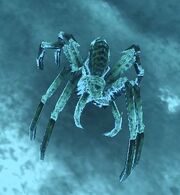 The Glikar'ma Ice Spider is a large arachnid species native to frozen arctic environments.
Glikar'ma spiders dwell in cold, frozen environments. One group of this species is endemic to Dera IV, where they live in abandoned mines and laboratories.
Glikar'ma Ice Spiders are large arachnids with light blue colored bodies. Like many other spiders, they are hostile and aggressive towards intruders.
"Fastest Game On Ice": A Glikar'ma Ice Spider can sometimes appear as a random opponent for the player to race against.
The Glikar'ma Ice Spiders are a reference to the LUG Star Trek RPG, where they are said to be native to Andoria.
---