Fire Emblem Warriors: Three Hopes - The Loop
Play Sound

Gowron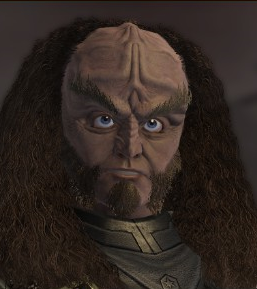 Gowron, son of M'Rel, was Chancellor of the Klingon High Council from 2367 until he was killed by Worf and succeeded by Martok during the Dominion War in 2375. He is the grandson of Aakar of House Mo'Kai.
Missions involved
[
]
"Leap of Faith": Gowron is encountered by the player, accompanied by General Martok and Matriarch J'Ula, in Koth, or "the void", a place for those denied entry to either Gre'thor or Sto-vo-kor. He leads the team to the Barge of the Dead and aids in fighting the Sons of None, catching up with Martok during the journey. When J'Ula is preparing to offer her soul to free that of L'Rell, Gowron offers his own instead, saying that he would rather be in the company of fellow Klingons, even in Gre'thor, than remain alone in the void. He is tangled in chains launched by Fek'lhr and Martok helps him up. Fek'lhr eventually accepts J'Ula's offer of Aakar's and J'mpok's souls and Gowron would be free.
Missions mentioned
[
]
"A Day Long Remembered": During the last battle for Qo'noS, Aakar is killed by the player character with the aid of L'Rell, and J'Ula defeats J'mpok in single combat, paving the way for L'Rell to assume the Chancellorship. With both Aakar and J'mpok dead and banished to Gre'thor, Martok remarks that he is pleased that Gowron had gone to Sto-vo-kor, although he remarks that Fek'lhr is likely glad to be rid of that "wide-eyed schemer".
Other involvement
[
]
"Hoch 'ebmey tljon": During the events of "The Khitomer Discord", Chancellor J'mpok faces a difficult choice when he meets a potential new ally, whose eyes reminded him of Gowron, a mad tyrant who ruled the Empire he had grown up in. J'mpok knew that his new ally, Aakar, was clearly related to Gowron by blood. As Aakar presents him with J'Ula's mycelial weapon, along with the opportunities he could achieve ruling the Empire, he flashes his widened eyes like a madman which gave J'mpok a haunting visage of Gowron for a moment.
Gallery
[
]
Martok reunites with Gowron in Koth.
External links
[
]
---