Raise a Floppa - The Loop
Play Sound

Grilka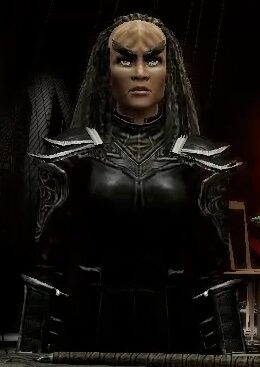 Profession(s):
Leader of the House of Grilka
Lady Grilka is the head of the Klingon Great House of Grilka, mother of Koren and K'Dhan, as well as the wife of Worf.
History
[
]
In 2371, Kozak, Grilka's husband at that time and head of the House of Kozak, died due to an accident involving Quark in Quark's bar on Deep Space 9. In order to retain control over her possessions, she temporarily married Quark, eventually transfering her late husband's House into the "House of Grilka". Seeking financial advise, Grilka sought out Quark again in 2373. Worf quickly became infatuated with her, although the Great Lady stayed out of his reach, as his family was still stripped of its honor at that time.
During the Dominion War from 2374 to 2375, Grilka was involved with J'Nek, a warrior from her ship. She gave birth to their daughter Koren, but J'Nek would not survive the war.
In 2385, Grilka met Worf again, who returned to Qo'noS to become lead ambassador of the Federation. They soon started a relationship, and married the next year in a traditional Klingon ceremony with his family and many of his friends from Starfleet in attendance, including surprise guest Data.
In 2388, two years into her marriage with Worf, Grilka gave birth to K'Dhan. Being interviewed by Federation reporter Jake Sisko that same year, Worf remarked that "Grilka is glorious" and that "her shouts rang through the city as she birthed [my] son."
Missions involved
[
]
Gallery
[
]
Note
[
]
Nothing is known about Grilka's relationship to Worf or the status of her House in relation to the House of Martok after 2388. Although Worf never mentions her during any in-game encounters, we may assume both are still married and that she still resides on Qo'noS.
Among the Colonist Duty Officers for the KDF faction is a female Klingon named Grilka. It was unknown whether this was meant to be the same person, but the appearance of the real Grilka in the mission "Quark's Lucky Seven" makes this unlikely.
Much like Captain Kagran, Grilka wears a hybrid uniform which combines elements of both Bortasqu' and Klingon Honor Guard uniforms.
External links
[
]
---