Hangar pet

This article is about Hangar Pets. For playable shuttles & fighters, see
Small Craft
.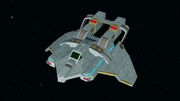 Hangar Pets are small, lightweight vessels that can be deployed from ships with Hangar Bays (such as Carriers, Strike Wing Escorts, Flight Deck Carriers and Dreadnoughts).
Most are extremely agile and can easily outmaneuver any playable vessel. Hangar pets may specialize in direct damage firepower support, repairing the mothership or weakening/disabling enemies. Most direct damage dealing pets have 20km attack range, which is the double of 10km range of most directed energy and projectile starship-mounted weapons. Additionally, while attacking the pets do not prevent the launching starship from using full impulse, thus making it possible to easily outmaneuver even the most agile escort-type foes that have no hangar pets of their own, by keeping them at a distance with their full impulse being disabled under attack.
Due to their weak shields and hull however most hangar pets are easily destroyed - although due to their number they can inflict damage if not dealt with on time. Hangar pets are most easily destroyed by using AoE BOff abilities such as Cannon: Scatter Volley or Beams: Fire at Will.
While they cannot be individually controlled, players can dispatch orders and commands to the wings of hangar pets through the use of carrier commands. Carrier commands are a built-in set of 4 abilities available on any ship capable of deploying hangar pets.
Auto launch can be enabled by right-clicking the icon that launches hangar pets. This will add a green frame and "Autofiring!" text on the launch ability. However, initial launch will have be to manually activated, after which ability becomes automated by deploying new pets when possible.
Squad size refers to the number of hangar pets deployed per wing. Each hangar bay can support up to two deployed wings at the same time.
Carrier commands allow a player to control hangar pets in space. When activated they set the combat of all hangar pets that are currently summoned to either aggressive or defensive, and can make them move out to the currently selected target or back to the player's ship. Carrier commands are not used to summon or unsummon hangar pets (although selecting any command other than "Recall" will launch again any pet that had redocked to the player's ship after spawning).
There are four commands that can be given to hangar pets:
(Sends your craft to attack your currently-selected target)
(Sends your craft to escort your currently-selected ally)
(Orders your craft to intercept incoming mines, torpedoes, and small craft)
(Orders your craft to return to the hangar and regenerate)
Hangar Pets gain Ranks while active. There are a total of five ranks; each rank-up will improve their performance over time. Each launched fighter gains ranks separately. Ranks are slowly gained based upon the time they spend in combat without dying. Reaching Rank 5 requires a total of 5 minutes of active Combat time, with lower ranks being more quickly achieved than those at the high end.
Each time a hangar pet achieves the next Rank, it gains the following stat buffs:
25% Hull Heal
+5/10/15/20/25% (depending on the rank) Maximum Hull Capacity

Tachyon Drones, Siphon Drones and Shield Repair Drones will instead gain +10/20/30/40/50% Max HP, due to their limited combat utility.
Runabouts, Delta Flyers and all Frigate hangar pets will instead only gain +2/4/6/8/10% Max HP, due to their higher starting base value.

+2/4/6/8/10% (depending on the rank) Damage Bonus

non-damaging hangar pets will instead gain other unique bonuses:

Tachyon Drones will drain -10 more shields per tick, per Rank
Shield Repair Drones will repair 10% more shields per tick, per Rank
Siphon Drones do not currently gain in effectiveness as they Rank Up, other than Max HP
Hangar pets come with a variety of weapon loadouts, which are listed below. Some utilize beam weapons, others cannons, and a select few mix both types of energy weapons (e.g. Elachi Oschu Shuttles); the energy type generally matches the type used by starships of their faction. Several higher-quality hangar pets gain more weapons above the baseline version, though some do not, instead gaining more abilities.
Many hangar pets feature a torpedo launcher, or gain one at those higher qualities, and a select few have mine launchers. Note that it is generally advised to avoid using hangar pets with torpedo launchers on a build utilizing Concentrate Firepower, as the pets will often take the buff for themselves and have much lower damage potential than a player. Some hangar pets list that they have "Micro" Beams or Torpedo Launchers, but this wording appears to be cosmetic; they function similar or identically to standard beam arrays and torpedo launchers.
Frigates have the largest assortment of weapons, while several support hangar pets have no weapons at all. Squadron pets are actually a single entity that appears to be multiple fighters, and have a large combined weapon loadout to give this appearance, eg. the Tactical Flyer Squadrons have six omni-directional beam arrays in each "group". These differences are purely cosmetic.
One particular quirk about hangar pets, most prevalent at Rare quality, is that very few are equipped with Single Cannons (such as the Plesh Brek Frigates), but rather most have a slightly different kind of weapon known as Pulse Cannons instead. Pulse Cannons are exclusive to hangar pets, so the exact stats of these weapons such as their base damage are not known, but they appear to be a 180-degree weapon very similar to a Single Cannon. For most hangar pets, the higher-quality version replaces any Pulse Cannons with Turrets, though exceptions exist, including Armored Marauding Force shuttles, Bleth Choas Fighters, Orion Interceptors, Stalker Fighters, and S'Kul Fighters. There are no hangar pets as of this writing with both a Pulse Cannon and a Turret.
Prior to the March 4th, 2021 patch, Pulse Cannons were affected by a severe bug that made them deal more damage than Dual Cannons when under the effect of Cannons: Scatter Volley, which was most often caused by the trait Superior Area Denial. Since that patch they appear to behave the same as Single Cannons. As such, in the Available hangar pets section below, Pulse Cannons are indicated with a Single Cannon icon.
You must own a Carrier, Dreadnought, Strike Wing Escort, Flight Deck Carrier or Multi-Mission Science Vessel in order to use hangar pets. Every new starship with hangar bay comes pre-fitted with a full set of hangar pets. All standard issue hangar pets on new ships are of Rare quality.
Very Rare fighters can be purchased through the Dilithium Store for 30,250 . For characters that are members of any Fleet - depending on the level of your Fleet Dilithium Mine, the cost can be lowered to 25,712 . Most are found in the "Hangar Pets" section, with the exception of Advanced Jem'Hadar Fighters and Advanced Jem'Hadar Attack Ship which are found in the "Special Items and Boxes" section.
Most if not all Ultra Rare faction-specific and cross-faction fighters, excluding a few noted exceptions such as Elite Obelisk Swarmers, can be purchased from your Fleet Starbase for 100,000 and 45,000 after upgrading the Communication Array to Tier V. Depending on the level of your Fleet Dilithium Mine, the cost can be lowered to 38,250 and 100,000 . Your fleet requires Starbase Science Personal Requisition Provisions to purchase.
Universal Rare, Very Rare and Ultra Rare Obelisk Swarmers can be purchased from your Fleet Spire after upgrading your Spire Research Facilities to Tier I, II and III respectively. Depending on the level of your Fleet Dilithium Mine, the cost can be lowered to 38,250 and 100,000 at Elite quality. Ship-locked Rare, Very Rare Obelisk Swarmers are obtained from the Obelisk Carrier (and its Advanced variant), and "Sphere of Influence" respectively.
Attack: Armed, with either no abilities or only self-enhancing abilities.
Support: Unarmed, provides buffs or heals to friendly ships.
Debuff: Unarmed. hampers opponents by debuffing / reducing their capabilities.
Multirole: A combination between Attack, Support and / or Debuff roles.
Raider: Capable of boarding hostile ships OR stealing resources (energy drains / siphons not included).
Frigate: Powerful independent ships, heavily armed with multiple abilities and very small squad size (only one per wing); much higher hull point than fighters.
Note that as mentioned above, Pulse Cannons are indicated with the same icon as Single Cannons.
---
Hangar pet performance may be affected by various factors (unless stated otherwise), all listed below.
Innate

All Hangar pets are immune to warp core breaches and have a unique version of the Strategist specialization ability "Layered Defense", known as "Layered Defenses III", which makes them immune to a single torpedo hit every 30 seconds.
Starships with Hangar Bays by default can use Carrier commands, a set of four abilities that issue orders to your Hangar pets.
Subsystem

Auxiliary Power level will determine the recharge rate before a Hangar pet can be launched again; if Auxiliary subsystem is knocked offline, the Hangar will not operate.
Duty Officers

Flight Deck Officer: Reduces the time to recharge Hangar Bay abilities after use.
Flight Deck Officer: Increases the accuracy of any carrier pet launched from your Hangar bays while they are in Intercept mode.
Flight Deck Officer: Increases the damage of any carrier pet launched from your Hangar bays while they are in Escort mode.
Bridge Officer abilities

Following abilities grant either a direct damage increase to Hangar pets or indirect through target's resistance debuff:
Hangar Pets
Starfleet
Rarity
Shuttles
Fighters
Drones
Frigates
Rare
• Class C
• Class F
• Danube
• Delta Flyer
• Mirror Universe
• Type 8
• Tactical Flyer Squadrons
• Tellarite Adamant
• Aeon Timeships
• Peregrine
• Stalker
  - Stalker Squadron
• Shield Repair Units
• Kelvin Timeline Assault Drone
• Callisto Light Escorts
• Cestus
• Caitian Support
Very Rare
• Adv. Class C
• Adv. Class F
• Adv. Danube
• Adv. Delta Flyer
• Adv. Mirror Universe
• Type 10
• Adv. Tactical Flyer Squadrons
• Adv. Tellarite Adamant
• Adv. Aeon Timeships
• Adv. Peregrine
• Adv. Stalker
  - Advanced Stalker Squadron
• Re. Shield Repair Units
• Adv. Kelvin Timeline Assault Drone
• Adv. Callisto Light Escorts
• Adv. Cestus
• Adv. Caitian Support
Ultra Rare
• Elite Class C
• Elite Class F
• Yellowstone
• Elite Delta Flyer
• Elite Mirror Universe
• Elite Type 10
• Elite Tactical Flyer Squadrons
• Elite Tellarite Adamant
• Elite Aeon Timeships
• Elite Peregrine
• Elite Stalker
  - Elite Stalker Squadron
• Armored Shield Repair Units
• Elite Kelvin Timeline Assault Drone
• Elite Callisto Light Escorts
• Elite Cestus
• Elite Caitian Support
Klingon Defense Force
Rarity
Shuttles
Fighters
Drones
Frigates
Rare
• Marauding Force
• Orion Slavers
• Tactical Attack Squadron
• DuQwl'
• Gorn Heavy
• House Mo'Kai Fighters
• House Mo'Kai Raiders
• Nausicaan Stinger
• Orion Cutpurse
• Orion Interceptors
• Rozhenko Timeships
• S'Kul
• To'Duj
  - To'Duj Squadron
• Power Siphon Drones
• Tachyon Drones
• Shield Repair Shuttles
• B'Rel
• Fer'Jai
• baSro'
• Ning'tao Support
Very Rare
• Re. Marauding Force
• Adv. Orion Slavers
• Adv. Tactical Attack Squadron
• Adv. DuQwl'
• Adv. Gorn Heavy
• Adv. House Mo'Kai Fighters
• Adv. House Mo'Kai Raiders
• Adv. Nausicaan Stinger
• Adv. Orion Cutpurse
• Adv. Orion Interceptors
• Adv. Rozhenko Timeships
• Adv. S'Kul
• Adv. To'Duj
  - Adv. To'Duj Squadron
• Adv. Power Siphon Drones
• Adv. Tachyon Drones
• Re. Shield Repair Shuttles
• B'Rotlh
• Adv. Fer'Jai
• Adv. baSro'
• Adv. Ning'tao Support
Ultra Rare
• Armored Marauding Force
• Elite Orion Slavers
• Elite Tactical Attack Squadron
• Elite DuQwl'
• Elite Gorn Heavy
• Elite House Mo'Kai Fighters
• Elite House Mo'Kai Raiders
• Elite Nausicaan Stinger
• Elite Orion Cutpurse
• Elite Orion Interceptors
• Elite Rozhenko Timeships
• Elite S'Kul
• Elite To'Duj
  - Elite To'Duj Squadron
• Elite Power Siphon Drones
• Elite Tachyon Drones
• Armored Shield Repair Shuttles
• Qaw'Dun
• Elite Fer'Jai
• Elite baSro'
• Elite Ning'tao Support
Romulan Republic
- These hangar pets are restricted to Romulan Republic-exclusive ships.
Rarity
Shuttles
Fighters
Drones
Frigates
Rare
 
• Kaleh
• Kelvin Timeline Scorpion
• Scorpion
  - Scorpion Squadron
• Suliban Veil
• Craeul
• Malem Support
• Romulan Drone Ship
Very Rare
 
• Adv. Kaleh
• Adv. Kelvin Timeline Scorpion
• Adv. Scorpion
• Adv. Suliban Veil
 
• Adv. Craeul
• Adv. Malem Support
• Advanced Romulan Drone Ship
Ultra Rare
 
• Elite Kaleh
• Elite Kelvin Timeline Scorpion
• Elite Scorpion
  - Elite Scorpion Squadron
• Elite Suliban Veil
 
• Elite Craeul
• Elite Malem Support
• Elite Romulan Drone Ship
Dominion
- All Dominion hangar pets are Cross-Faction.
Rarity
Shuttles
Fighters
Drones
Frigates
Rare
 
• Jem'Hadar
  - Jem'Hadar Squadron
 
• Jem'Hadar Attack Ship
• Jem'Hadar Support
• Jem'Hadar Vanguard Gunboats
Very Rare
 
• Adv. Jem'Hadar
  - Adv. Jem'Hadar Squadron
 
• Adv. Jem'Hadar Attack Ship
• Adv. Jem'Hadar Support
• Adv. Jem'Hadar Vanguard Gunboats
Ultra Rare
 
• Elite Jem'Hadar
  - Elite Jem'Hadar Squadron
 
• Elite Jem'Hadar Attack Ship
• Elite Jem'Hadar Support
• Elite Jem'Hadar Vanguard Gunboats
Cross-Faction
Rarity
Shuttles
Fighters
Drones
Frigates
Rare
• Elachi Oschu Shuttles
• Bleth Choas
• Epoch
• Hur'q Swarmers
• Lost Souls of Gre'thor
• Son'a Assault Fighters
• Sphere Builder Heavy
• Tholian Widow
• Voth Heavy
• Xindi-Insectoid Castroi
• Xindi-Primate Nusuti Heavy
• Mir
• Obelisk Swarmers

• Baltim Raider
• Breen Plesh Brek Raider
• Elachi Qulash
• Krenim Heavy Raiders
• Shuk-din
• Sphere Builder Arehbes
• Terran Empire
• Tholian Mesh Weavers
• Vorgon Echentis
• Xindi-Aquatic Mobulai
• Yukawa
Very Rare
• Adv. Elachi Oschu Shuttles
• Adv. Bleth Choas
• Adv. Epoch
• Adv. Hur'q Swarmers
• Adv. Lost Souls of Gre'thor
• Adv. Son'a Assault Fighters
• Adv. Sphere Builder Heavy
• Adv. Tholian Widow
• Adv. Voth Heavy
• Adv. Xindi-Insectoid Castroi
• Adv. Xindi-Primate Nusuti Heavy
• Adv. Mir
• Adv. Obelisk Swarmers
• Adv. Baltim Raider
• Adv. Breen Plesh Brek Raider
• Adv. Elachi Qulash
• Adv. Krenim Heavy Raiders
• Adv. Shuk-din
• Adv. Sphere Builder Arehbes
• Adv. Terran Empire
• Adv. Tholian Mesh Weavers
• Adv. Vorgon Echentis
• Adv. Xindi-Aquatic Mobulai
• Adv. Yukawa
Ultra Rare
• Elite Elachi Oschu Shuttles
• Elite Bleth Choas
• Elite Epoch
• Elite Hur'q Swarmers
• Elite Lost Souls of Gre'thor
• Elite Son'a Assault Fighters
• Elite Sphere Builder Heavy
• Elite Tholian Widow
• Elite Voth Heavy
• Elite Xindi-Insectoid Castroi
• Elite Xindi-Primate Nusuti Heavy
• Elite Mir
• Elite Obelisk Swarmers
• Elite Baltim Raider
• Elite Breen Plesh Brek Raider
• Elite Elachi Qulash
• Elite Krenim Heavy Raiders
• Elite Shuk-din
• Elite Sphere Builder Arehbes
• Elite Terran Empire
• Elite Tholian Mesh Weavers
• Elite Vorgon Echentis
• Elite Xindi-Aquatic Mobulai
• Elite Yukawa
See main page: Hangar pet