Fire Emblem Warriors: Three Hopes - The Loop
Play Sound

Hathon

Facilities Available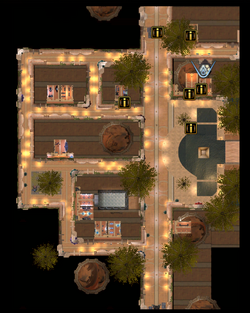 Map of Hathon
Hathon is a city on Bajor and serves as a social hub for all factions.
During the occupation of Bajor from 2328 to 2369, fifteen farmers from Hathon were executed by the Cardassian authorities under Gul Pirak simply because they refused to display the Cardassian banner outside their homes.
In 2409, during a temporary occupation of Deep Space 9 by rogue Dominion forces, Hathon served as an organizational hub for the Federation and the Klingon Empire to retake the station.
Locations
[
]
There are many unnamed, interactable NPCs scattered throughout Hathon. They generally provide opinions on the city of Hathon, and on the influx of Starfleet and KDF officers since the Dominion attack on Deep Space 9.
Transporter Pad
[
]
Starfleet Command
[
]
Ship and Shuttle Requisitions
Ship Selection
Starfleet Subspace Relay
Starfleet Operations
[
]
Infirmary
[
]
Bajoran Militia HQ
[
]
Ha'dara Temple
[
]
Ranjen Ravel
Vedek Krin
Orb of Prophecy and Change
Plaza
[
]
Bar
[
]
Alleys
[
]
Militia Officer
Arguing Klingon officers
Checkpoint
[
]
Militia Officer
Arguing Klingon officers
Greenhouse
[
]
Missions involved
[
]
Other involvement
[
]
"The Past and Present": In the temple in Hathon, Kai Kira Nerys awakens from a vision about the recent Tzenkethi and Hur'q attacks. Doctor Likra contacts her and confirms that there had been no Drantzuli eggs or buried Hur'q ships present on Bajor when the Tzenkethi attacked. Kira asks Likra not to share this information with the Science Council, as she wishes to avoid these facts becoming public record.
Notes
[
]
Aside from the Lohlunat Festival site on Risa, Hathon was the only map in Star Trek Online that featured a day-night cycle prior to the lighting 2.0 update.
Gallery
[
]
External links
[
]
---
Hubs, Starbases and Adventure zones
Federation
Social
Earth Spacedock • Earth Spacedock (23rd Century) • Deep Space K-7 • Starbase 39 • Starfleet Academy • Starfleet Academy (23rd Century)
Mission
Facility 4028 • Deep Space K-13 • Delta Volanis Science Station • Donatu Research Station • Donia Space Station • Jupiter Station • Sierra Outpost II • Starbase 1 • Starbase 24 • Starbase 80 • Starbase 82 • Starbase 114 • Starbase 157 • Starbase 234 • Starbase 236 • Starbase 375 • Starbase 621 • Korvat Medical Lab • Omar Space Station • Outpost Quebec Alpha • Penal Colony 47 • San Francisco Fleet Yards • Tazi Space Station • Treasure Trading Station • Utopia Planitia Shipyards • Vulcan Space Dock
Klingon
Social
First City (Qo'noS) • Ganalda Station • Klingon Academy
Mission
Lackey Listening Post • Bomari Listening Post
Romulan
Social
New Romulus Command • Romulan Flotilla
Mission
Gasko Station • Rh'Ihho Station • Vauthil Station • Virinat • The Vault
Other/
Neutral
Social
Captain's Table • Deep Space 9 • Delta Quadrant Command • Drozana Station • Dyson Sphere Joint Command • Hathon (Bajor) • Kobali City • Risa • New Romulus Staging Area • Paradise City
Adventure
Lohlunat Festival • New Romulus • Nimbus III • Q's Winter Wonderland • Solanae Dyson Sphere
Battle
Badlands Battlezone • Borg Invasion of Defera • Gamma Quadrant Battlezone • Kobali Prime • Tholian Incursion • Tzenkethi Battlezone • Voth Battlezone • Undine Battlezone
Mission
Deferi Outpost 3 • Dyson Sun Control • Kyana Research Station • Na'kuhl Temporal Facility • Outpost 001 • Station Alpha • Suliban Helix • Storage Facility Z98 • Terok Nor (mirror)