Fire Emblem Warriors: Three Hopes - The Loop
Play Sound
Timeline Change Imminent!

---

This article or section contains information that no longer applies to the current version of Star Trek Online. It is provided only for historical purposes.

Hugh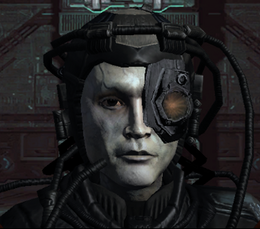 Profession(s):
Mission Contact
Hugh, formerly Third of Five, is a Liberated Borg male living in the Delta Quadrant. He is best known for being the first Borg drone to be liberated from the Collective.
History
[
]
In 2368 Hugh, going by the Borg designation Third of Five, was the only survivor of a Borg scout ship that crashed on a planet in the Argolis Cluster. The crash site was discovered by the crew of the U.S.S. Enterprise-D, and after a period of being separated from the Collective, he began to develop a unique identity, adopting the name Hugh. After debating what to do with him, the crew of the Enterprise decided it was best to let him return to the Collective.
By 2370, Hugh's individuality had corrupted the collective consciousness of the crew of the Borg Cube that had recovered him. The android Lore took advantage of this, taking control of these disconnected Borg. Hugh however disapproved of Lore's cruelty to his fellow drones, and led a splinter group of Borg against him, again with help from the crew of the Enterprise-D.
By 2410, Hugh has returned to the Delta Quadrant, and is now part of The Cooperative, a group of Liberated Borg with the goal of freeing other drones from the Collective.
Missions involved
[
]
Notes
[
]
Unlike Seven of Nine, Hugh's in-game model predates the changes to the character seen in

Star Trek: Picard

and instead depicts how he appeared shortly after being separated from the Collective in

The Next Generation

.
Hugh's only mission was temporarily removed in September 2019. With his character undergoing significant changes in Star Trek: Picard, the return of that mission may not see the re-inclusion of Hugh.
External links
[
]
---