Hunter Escort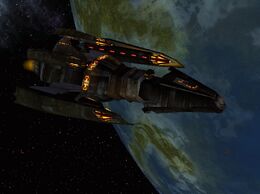 This article is for the NPC starship; for the playable vessel, see Hirogen Hunter Heavy Escort.
The Hunter Escort is an escort class heavily utilized by the Hirogen. It is more powerful than the Seeker Frigate, but inferior to the Apex Battleship.
These Escorts are armed with Transphasic Torpedo Launchers, Tetryon Beam Arrays and Turrets and use Ability: Subnucleonic Beam as well as Ability: Beam Array: Overload.
Armament
[
]
Abilities
[
]
Hull
[
]
| Level | Standard Difficulty | Advanced Difficulty | Elite Difficulty |
| --- | --- | --- | --- |
| 05 | 8,399 | - | - |
| 06 | 8,909 | - | - |
| 23 | 20,905 | - | - |
| 24 | 21,749 | - | - |
| 30 | 28,987 | - | - |
| 31 | 29,935 | - | - |
| 35 | 33,857 | - | - |
| 51 | 49,621 | - | 99,921 |
Missions involved
[
]
Vessels of the class
[
]
Notes
[
]
Gallery
[
]
External links
[
]