I.K.S. Kri'stak

I.K.S. Kri'stak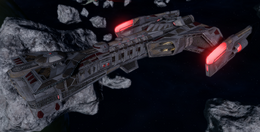 The I.K.S. Kri'stak is a Vo'devwl-class Carrier used as the personal flagship of J'mpok, Chancellor of the Klingon High Council.
"The Khitomer Discord": After stealing the Lukara's Mycelial Weapon and reinstalling it on the Kri'stak, J'mpok fires on Khitomer and is present during the final battle, although his ship is not targetable.
"Partisans": The player, Martok, Adet'pa and House Mo'Kai forces engage the Kri'stak while J'Ula and Wilkins aboard the Lukara works on broadcasting the evidence of J'mpok's attack on Khitomer in the Gorath System.
"Knowledge is Power": The Kri'stak appears in J'Ula's first vision, devastating Qo'noS' surface with the Mycelial weapon alongside a massive Elachi invasion force. The weapon ultimately destabilizes Qo'noS' crust, destroying the planet in a massive explosion.