Timeline Change Imminent!

---

This article contains information that no longer applies to the current version of Star Trek Online. It is provided only for historical purposes.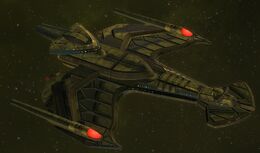 The I.K.S. M'Wur is a Klingon Negh'Var Warship that can be found in the Battle Group Omega fleet in the Gamma Orionis Sector Block.


United Federation of Planets
U.S.S. Barrett (Exchange) • U.S.S. Carnegie (Bank) • U.S.S. Chapar (Mail) • U.S.S. Borland • U.S.S. Felczer • U.S.S. Forrest • U.S.S. Hendrickson • U.S.S. Houston • U.S.S. McDonough • U.S.S. Montgomery Scott • U.S.S. Planck • U.S.S. Samoa • U.S.S. Satie • U.S.S. T'Kumbra • U.S.S. Tomlinson • U.S.S. Victory


Klingon Empire
I.K.S. Chang • I.K.S. ChoS • I.K.S. ChuQun (Bank) • I.K.S. Jorn • I.K.S. Marr • I.K.S. M'Wur • I.K.S. Q'thoq • I.K.S. Ramjep (Mail) • I.K.S. Taral • I.K.S. T'Nek • I.K.S. Wek (Exchange)