Raise a Floppa - The Loop
Play Sound
Iconian gateways are transdimensional transporters that were used by the Iconian civilization to maintain their vast interstellar empire during its height 200,000 years ago. Though the Iconians' empire apparently collapsed long ago, several working gateways have been found in recent decades.
Iconian gateways can target multiple locations for travel, and a trip through a gateway is typically one-way; the presence of a second gate at the destination is not required. However, a number of Iconian gateways, most notably the space gateways located within the Iconians' Dyson Spheres, are permanently locked to a single gateway on the other side, allowing for two-way transportation at the expense of the ability to change destinations.
Known gateways
[
]
Numerous Iconian gateways remain in existence and the Iconian Gateway network was activated by the player in "A Step Between Stars". Since then, many gateways were destroyed but several remain in operation, including several which are available for the player to use in travelling across the Galaxy (said network is highlighted in green below).
Background
[
]
Missions involved
[
]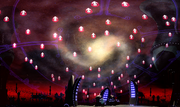 Gallery
[
]
External links
[
]
Travel
Ground
Risa Floater, Risa Powerboard, Run, Transporter
Sub-light
Full Impulse, Impulse Capacitance Cell, Impulse Engine (Impulse Engines), Impulse Expertise
Warp
Quantum Slipstream Drive, Sector Space Travel Speed, Warp Core, Warp speed
Transwarp
Borg Transwarp Hub, Transwarp, Transwarp Coil, Transwarp Conduit
Other
Bajoran wormhole, Iconian gateway, Sector space, Spore drive, Teleport, "Tour the Galaxy"