GTA: The Criminal Enterprises - The Loop
Play Sound

Istapp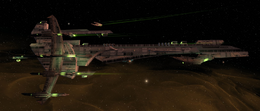 See also Breen Capital Ship for hull strength, abilities, and weapons
Istapp is a Breen Capital Ship that can be found in the Kelvani Belt of the Raveh Sector, Orellius Sector Block. It is a rare spawn and can occur in any instance of the Kelvani Belt.
Like the other Breen capital ships Desna and Snosk, it has several Bleth Choas Fighters that accompany it.
Notes
[
]
Unlike Desna and Snosk, Istapp spawns outside of the objective circle (making it the least observed of the three). It follows a flight path that starts at the ca. eleven o'clock position (northwest) of the mining facility, then moving clockwise. The entire flight path takes 22 minutes to complete. It will be identified as Breen Capital Ship "Istapp".
Destroying all three Breen capital ships completes the Breen Capital Punishment accolade.
Istapp is the Swedish word for "icicle".
Images
[
]