Line 15:
Line 15:
 

* {{mission|The Plausibility of the Possible||ALL}}: J'Ula breaks [[Aakar]] out of [[Facility 2047]].

 

* {{mission|The Plausibility of the Possible||ALL}}: J'Ula breaks [[Aakar]] out of [[Facility 2047]].

 

* {{mission|Impossibility of Reason||ALL}}: J'Ula's forces attempt to capture [[Gabriel Lorca (mirror)|Captain Lorca]] and hunt his team on [[Priors 5D]].

 

* {{mission|Impossibility of Reason||ALL}}: J'Ula's forces attempt to capture [[Gabriel Lorca (mirror)|Captain Lorca]] and hunt his team on [[Priors 5D]].

 
+

*[[Mission: Downfall|Downfall]]: J'Ula is part of the attack on Starbase 1 and deploys a mycelial weapon during the battle, causing both her and the player to be transported to the 25th century.

 
 
 

==Other involvement==

 

==Other involvement==
---
Revision as of 12:32, 5 February 2020

J'Ula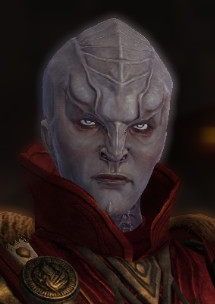 Profession(s):
Information giver
J'Ula is a Klingon matriarch of the House of Mo'Kai. She commands the I.K.S. Lukara. She is the sister of T'Kuvma.
Missions involved
Other involvement
"Fighting in a Burning House": Aboard the Lukara, J'Ula reflects on the death of her brother, T'Kuvma. She vows to use her position within the House Mo'Kai to gather the information needed to win the war against the Federation, and ensure that the other Great Houses are indebted to her and her House.
"The Ascendant": J'Ula searches for remaining, hidden members of her house on Nimbus III.
External links