GTA: The Criminal Enterprises - The Loop
Play Sound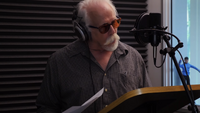 J.G. Hertzler is an American actor, author and politician known for portraying Martok on Star Trek: Deep Space Nine, a role he has reprised in Star Trek Online.
Biography
[
]
J.G. Hertzler was born on March 18, 1950. He started his acting career in the 1970s and 1980s by appearing in theater and Broadway productions, while also working for the federal government. During the 1990s, Hertzler had several television and film roles. In 1993, Hertzler first appeared in a 'Star Trek' production, playing the captain of the U.S.S. Saratoga in"Emissary, the pilot episode of Star Trek: Deep Space Nine. Later he took on the role of General Martok, which he portrayed until the end of the series. Hertzler also portrayed five other characters on Star Trek, among them the changeling Laas.
Following his Trek appearances, Hertzler had other guest spots in television shows and mainly turned to theater acting, directing, teaching and writing. He is also a frequent guest on Star Trek conventions, often appearing in-character as his signature role Martok. Since 2013 Hertzler has been involved with politics, having been elected to the town council of Ulysses, New York. In 2017 he announced intentions to run for the House of Representatives for the state of New York.
Star Trek Online
[
]
J.G. Hertzler reprised his roles as Martok in 2017 and as Laas in 2021 in Star Trek Online. When doing his voice overs, Hertzler took the time to visit Cryptic Studios and met with the development team of the game.
Missions Involved
[
]
Laas was originally played by J.G. Hertzler but he is voiced by Gabriel Wolf in the mission "The New Link" until sometime in 2021.
Additional voiceovers
[
]
Notes
[
]
J.G. Hertzler is one of only five actors to have portrayed seven (or more) characters in the Star Trek franchise. Besides his roles as Martok and Laas, Hertzler also appeared on Deep Space Nine as the changeling posing for Martok, the Vulcan captain of the Saratoga, Roy Ritterhouse in "Far Beyond the Stars", as well as a prophet and a holosuite guest in the series finale. Furthermore, Hertzler appeared as a Hirogen fighter on Voyager and portrayed two Klingon guest characters on Enterprise. He has also appeared recently voicing a Drookmani captain on Lower Decks.
See also
[
]
STOWiki articles
[
]
External (personal)
[
]
[

]
References
[
]
---