Jacob Ross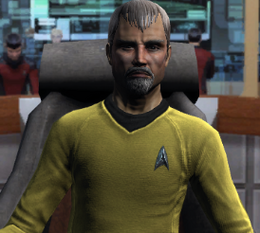 Commodore Jacob Ross is a Federation Starfleet officer who commanded the Constitution class U.S.S. Reuben James in 2265.
Commodore Ross was searching for a Klingon vessel reported to have attacked a colony in the Gliese System.
Missions involved
[
]
"Night of the Comet": In 2265 the Reuben James confronts the player, whose ship is disguised as a Klingon Battle Cruiser and unable to reveal their true identity in order to protect the timeline.
Notes
[
]
Strangely, Commodore Ross' assignment patch is that of the USS Enterprise (NCC-1701), which didn't become the general Starfleet insignia until the 2270s.
Ross is erroneously displayed on a 24th/25th century-style bridge and not on a TOS era Constitution class bridge.