Fire Emblem Warriors: Three Hopes - The Loop
Play Sound

Jhet'leya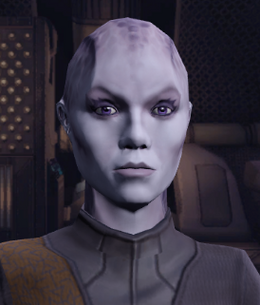 Profession(s):
Information giver
Jhet'leya is a Kobali who was a crewmember of the U.S.S. Voyager, Ensign Lyndsay Ballard, prior to her rebirth.
History
[
]
Lindsay Ballard
[
]
Ballard attended Starfleet Academy in the late 2360s, becoming close friends with Harry Kim during that time. In 2371, she graduated from the Academy and was subsequently posted aboard U.S.S. Voyager, primarily working in main engineering. Ballard survived the ship's initial trip to the Delta Quadrant, but was killed on an away mission after an attack by Hirogen hunters in 2374. Her eulogy was given by Kim and Ballard was buried in space.
Jhet'leya
[
]
In 2374 the remains of Ensign Ballard were found drifting in space by the Kobali. Subsequently, Ballard was reanimated and reborn as Jhet'leya. The integration of the former human in Kobali society proved difficult, as Jhet'leya vividly remembered her former life and her time on Voyager. In 2376, she fled from the Kobali and found her former vessel, resuming the life of Lindsay Ballard for a while and bonding again with Harry Kim. Soon after her arrival on Voyager, more and more Kobali traits established themselves in Jhet'leya, who ultimately decided to rejoin her people with her Kobali father Q'ret.
Missions Involved
[
]
"Our Chance for Peace": The player sees Jhet'leya in the Kobali temple standing over a stasis tube containing the body of the original Harry Kim.
"Dust to Dust": The player and Captain Harry Kim discover that Jhet'leya had recovered the body of Kim's long-dead quantum duplicate from deep space and used it to birth the Kobali Keten. Disoriented upon awakening, Keten seizes control of the Kobali Temple, and Jhet'leya asks the player and Captain Kim to help reclaim the Temple and assist Keten adjusting to his new life.
Other involvement
[
]
Notes
[
]
Jhet'leya is voiced by Kim Rhodes, the actress who originally played her and Lyndsay Ballard in the Star Trek: Voyager episode "

Ashes to Ashes

".
External links
[
]
---