Jhu Terel

Jhu Terel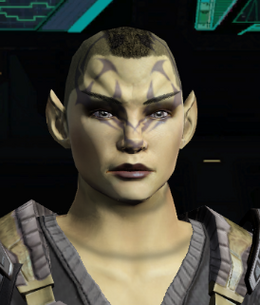 Military Rank:
Lieutenant
Profession(s):
Tactical Officer
Lieutenant Jhu Terel is the Romulan Tactical Officer aboard the R.R.W. Lleiset. Like many personnel in the Romulan Republic, she is vocal about her disapproval of the Tal Shiar and Empress Sela.
Jhu Terel was born and raised on a space station near Romulus.
After the destruction of Romulus, her family lived among the stars.
Terel had family aboard Gasko Station when it was attacked by the Tal Shiar.
"Republic Day": The player visits the bridge of the Lleiset in orbit of New Romulus and meets with Jhu Terel and the rest of her crew.

"Capture the Flag": When the Lleiset is boarded by the Vaadwaur she holds the ship's armory with a security team. In a cutscene after the boss battle she provides the player with an experimental concussion grenade to knock Overseer Relin off a catwalk and into the singularity core.