Jupiter Class Dreadnought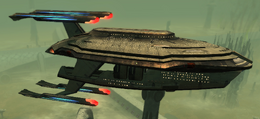 The Jupiter-class Dreadnought is a large Federation dreadnought design in service in 2409. Though older than the Galaxy-X and Odyssey-class dreadnoughts, the Jupiter is still a formidable warship that requires multiple vessels working together to defeat.
| Level | Standard Difficulty | Advanced Difficulty | Elite Difficulty |
| --- | --- | --- | --- |
| 50 | | | |
The Jupiter was the first dreadnought-level Federation ship introduced into the game. Despite this, it was the last of the Federation dreadnought-level starship designs to be made playable in the form of the Jupiter Class Carrier, although the vessel had been redesigned.