Raise a Floppa - The Loop
Play Sound

Kamarag Battlecruiser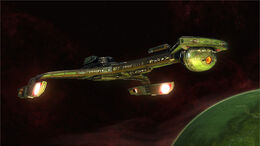 Matter-Antimatter
The Kamarag-class Battlecruiser is a Tier 3 (Level 20) Battlecruiser which may be flown by Klingon Defense Force characters, as well as characters of any other faction. All faction restrictions of this starship can be removed by having a level 65 KDF character or by purchasing the Cross Faction Flying unlock from the Zen Store.
Players can obtain this starship by completing the mission "Temporal Ambassador".
Overview
[
]
The Kamarag-class Battlecruiser was first designed in the mid-24th century, but only a few prototype vessels were built. After problems were found in the ship's power transfer systems, the design was shelved. Imperial engineers later created the mighty Vor'cha-class Battlecruiser.
Now that the Klingon Empire and its allies are looking for new ships, a team at the Ty'Gokor shipyards has revisited the Kamarag class. Its power problems were easily solved by modern EPS systems, and the Kamarag was reimagined as a mid-sized vessel that can be tougher than a Bird-of-Prey but more maneuverable than a Battlecruiser.
Class variants
[
]
Class
Information

Kamarag class

SKIN UNLOCK: Free

---

The Kamarag class bridges the design gap between the K't'inga class of the late 23rd century and the Vor'cha class of the mid-24th century. While the ship's head section matches the K't'inga, the rest of it (its thick neck section, Vor'Kang class-styled nacelles) more closely resembles the Vor'cha and her sister classes.

K'maj class

SKIN UNLOCK: Fleet Kamarag Battlecruiser Retrofit, 20,000 , 4

---

The K'maj class is a slightly modified variant of the original Kamarag-class design. The command section of the forward hull was replaced with a two-pronged variant, the mission pod features forward warp field stabilizers, the warp field stabilizers on the nacelles has been extended to the back of the nacelles, and the impulse generator has been replaced with four smaller ones.
Abilities
[
]
Cloak
The Kamarag-class Battlecruiser has a cloak that allows the ship to cloak when not in combat, granting stealth and a damage bonus upon decloaking.
Cruiser commands
As a Battlecruiser, this starship supports the following cruiser commands:
Standard configuration
[
]
Klingon starships come with standard equipment and weapons of the lowest mark available at the ship's minimum rank. The items provided are appropriate to the type of vessel and its related playing style.
Ship comparison
[
]
The following table compares Tier 3 KDF battlecruisers.
Ship

Rank

Tier

Hull

 
 
 

Uni

BOffs

IR

Cost

Koro't'inga Battlecruiser

20

3
24000
1.2
1
4
2
✓
2
3
1
3
✗
11
0.15
35
75,000
K't'inga Battlecruiser

20

3
24000
1.2
1
4
2
✓
2
2
1
3
✗
✗
11
0.15
35
5,000  • 1
Admiralty ship
[
]
Admiralty Ship

22
10
13
1.5x Critical Rating from ENG and SCI
Gallery
[
]
External links
[
]