Fire Emblem Warriors: Three Hopes - The Loop
Play Sound

Keten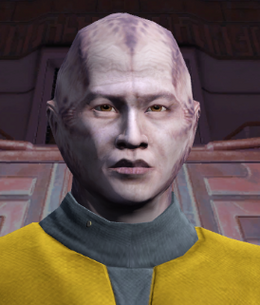 Formerly Ensign Harry Kim until his death in 2372, Keten is a Kobali reborn in 2410.
History
[
]
During Voyager's second year in the Delta Quadrant, the ship and its crew were duplicated by a subspace divergence field. While the two crews tried to save both ships, one Captain Janeway ultimately decided to sacrifice her ship so that other one may survive. However, Ensign Kim was killed in a hull breach prior to this, and was replaced by the duplicate Harry, along with the duplicate Naomi Wildman.
The Kobali, with the assistance of Jhet'leya, another former Voyager crew member once known as Lyndsay Ballard, found Ensign Kim's body in space. The Kobali kept Kim's body in a Vaadwaur stasis chamber for years while they prepared it for the rebirth process, and eventually used it to create Keten.
Missions Involved
[
]
"Dust to Dust": The player and Captain Kim discover Keten's existence after he awakens from a Vaadwaur stasis tube and takes control of the Kobali Temple. He is disoriented, believing it to be only shortly after his death, and that Voyager will return for him. He accuses the Kobali to be in league with the Vidiians and refuses to believe Captain Kim and Jhet'leya's explanations for what has happened, and after slowing the player's progress, beams himself aboard the Kobali flagship with the intention of contacting Voyager, which is on a secret mission in Vaadwaur-controlled space. The player disables Keten's ship, and then defends it against a Hirogen attack, which impresses Keten. He agrees to stand down, and to allow Jhet'leya to introduce him to Kobali society, provided Captain Kim first fill him in on the 32 years he has missed.
Gallery
[
]
---