Khenn Cruiser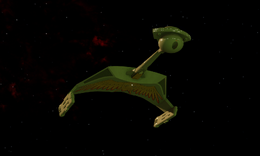 D7/K't'inga-class
 ~Battlecruiser Variants
Khenn Cruisers were used by the Romulan Star Empire in the 23rd century, based on technology acquired from the Klingons during their alliance in this time period. The Klingon Empire uses the same ship, also known as D7 class.
Incomplete and/or missing data.


This article or section does not list all values or entries associated with the discussed subject. Please add any missing statistics or items to the corresponding tables, lists and placeholders.
Armament
[
]
Abilities
[
]
Health
[
]
| Level | Normal Difficulty | Advanced Difficulty | Elite Difficulty |
| --- | --- | --- | --- |
| 60 | placeholder | placeholder | placeholder |
Missions involved
[
]
External links
[
]