Khimek

Khimek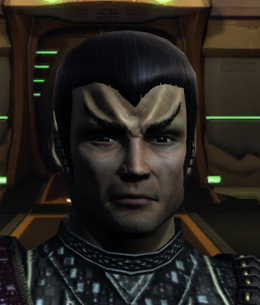 Military Rank:
Subcommander
Profession(s):
Intelligence operative
Khimek is a Romulan Subcommander loyal to the Romulan Republic. In 2409 he has infiltrated the Tal Shiar, and is assigned to the I.R.W. Yhisu. He provides information and assistance to Starfleet Intelligence and Klingon Intelligence.
"Enemy Action": Khimek helps the player - also undercover - rescue a prisoner from the Yhisu's brig.
"Mind Game": Khimek, now assigned to the I.R.W. Khnial, helps the player break free of their indoctrination and escape the ship.
"Uneasy Allies": Khimek is working undercover aboard Sela's Armed Freighter and attempts to sabotage the vessel while the player is aboard. He urges the player not to trust Sela, then allows himself to be stunned and beamed aboard the player's ship.