Klingon High Council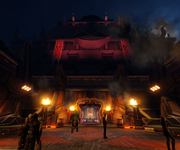 The Klingon High Council is the governing body of the Klingon Empire and consists of Councilors headed by a Chancellor.
The High Council resides in the Klingon capital, the First City on Qo'noS. Seat of government is the Great Hall. Councilors are usually the leaders of the most powerful and influtential Great Houses. However, small houses may also provide members of the High Council if backed by another Great House. Due to the social structure of the Empire there are no political parties; rather, the Houses represent political positions. As such, blood feuds between different families can have significant impact on political decisions concerning the wealth of the entire Klingon Empire. Stemming from a patriarchal tradition there are no females serving in the High Council. Decisions of the High Council are based on the reports from governmental agencies such as KDF and Klingon Intelligence.
Members of the Klingon High Council
[
edit
|
edit source
]
Cha'lak (Killed by M'Tara in 2410)
K'lek (Killed by M'Tara in 2410)
Kriton (Killed by M'Tara in 2410)
S'kopa (Killed by M'Tara in 2410)
Terrath (Killed by M'Tara in 2410)