GTA: The Criminal Enterprises - The Loop
Play Sound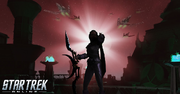 Klingon Recruitment is a limited time in-game Global Recruitment event. It includes new benefits and rewards for new Klingon Defense Force characters, known as Klingon Recruits, created during the event.
Availability
[
]
Klingon Recruitment was available for a limited time on the following dates:
PC:
January 26th, 2021 - February 25th, 2021
February 9th, 2022 - March 9th, 2022
Console:
March 2nd, 2021 - April 1st, 2021
February 9th, 2022 - March 9th, 2022
Any Klingon Defense Force character of any species created during the Event will remain a Klingon Recruit indefinitely, allowing players to progress through objectives at their own pace, with certain benefits available for their whole account.
Features and benefits
[
]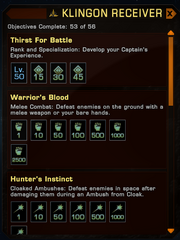 All accounts received an extra Character Slot during the first run of this event, with the launch of Season Twenty-two: House Reborn.
Klingon Recruits have a temporary bonus trait, Klingon Recruit, which awards Dilithium Ore for the player's entire team upon defeating enemies. This Trait is only active during a Klingon Recruitment Event.

Unlike previous Recruitment events, this trait rewarded Dilithium Ore in the form of dropped loot containers.

Klingon Recruits are able to quickly fill the gap between themselves and high-level characters.
Klingon Recruits will find out quickly that they have been selected to participate in a series of special operations, with the backing of a shadowy patron. This mysterious patron is dead-set on removing Enemies of the Empire. After contacting Klingon Recruits during the tutorial, they are likely to move against these Enemies, attaching additional dangers and rewards to missions along the Klingon Storyline. Recruits who wish succeed against these Enemies will be rewarded through the use of each recruit's own Receiver.
Like Gamma Recruitment previously, there are no weekly server-side goals to pursue as Klingon Recruits during the event window.
Klingon Recruit Character and Account Rewards
[
]
Completion of Klingon Recruit goals provides certain rewards for all level 20+ characters on an account. Once the Klingon Recruit character has reached level 20+, the Recruit can also claim other account-wide rewards from past Recruitment events by visiting the Temporal agent at each faction's social hub:
Thirst for Battle
[
]
Rank and Specialization: Develop your Captain's Experience.
Requires spending of Specialization Points in any of the following specialisations:
Note that while Recruitment Mark rewards receive a bonus from Bonus Mark Pools, they do not receive bonuses from Bonus Mark events.
Warrior's Blood
[
]
Melee Combat: Defeat enemies on the ground with a melee weapon or your bare hands.
Achieve killing blows against foes with Melee combat.
Hunter's Instinct
[
]
Cloaked Ambushes: Defeat enemies in space after damaging them during an Ambush from Cloak.
Achieve the killing blow against a foe damaged during the Ambush effect after cloaking.[1]
↑

With the release of Season 22, this objective was bugged and required you to be in point blank range (1 km) for the kill to register. This issue was fixed with the January 28th patch.
Unforgettable
[
]
Personal Endeavors: Earn Endeavor XP by completing Endeavor Missions.
Gain Endeavor XP and earn Perk Points by completing Personal Endeavors with your Klingon Recruit. This system unlocks at Level 60.
Klingon Recruit Goal
Klingon Recruit Reward
Account Reward
Earn 100000 Endeavor XP
(5x Perk Points)
+5% Bonus Endeavor XP on Recruit
1x Endeavor Perk Point
None
Earn 200000 Endeavor XP
(10x Perk Points)
1x Endeavor Perk Points
2x Personal Endeavor Reroll Tokens
None
Earn 300000 Endeavor XP
(15x Perk Points)
+10% Bonus Endeavor XP on Recruit
1x Endeavor Perk Point
None
Earn 500000 Endeavor XP
(25x Perk Points)
None
Unlock +5% Bonus Endeavor XP on all characters
Earn 700000 Endeavor XP
(35x Perk Points)
2x Endeavor Perk Points
5x Personal Endeavor Reroll Tokens
None
Earn 1000000 Endeavor XP
(50x Perk Points)
None
Unlock +10% Bonus Endeavor XP on all characters
Slay Enemies of the Empire
[
]
Defeat Specific Foes: Defeat enemies of the Empire in certain missions.
Klingon Equipment given from Recruitment reward boxes is various pieces of assorted ground or space gear, including generic Disruptor weapons with Discovery-era visuals.
Lead Warriors of the Empire
[
]
Admiralty, Duty Officers, and Upgrades: Demonstrate your mastery of these systems. Admiralty requires level 52.
To upgrade the Bat'leth of Sto'Vo'Kor the player must be Level 60 or above. To convert it to "Dynamic", inspect the weapon and select "Upgrade Item". It will automatically convert itself to a Mark XII item.
Fight for Glory
[
]
Task Force Operations: Engage in fleet combat with our allies to destroy our enemies.
Klingon Recruit Goal
Klingon Recruit Reward
Account Reward
Complete 25 Random Queues
100 Fleet Marks
5,000 Fleet-Only Dilithium
50 of Any Reputation Mark
1 of any Elite Mark
Complete 75 Random Queues
200 Fleet Marks
10,000 Fleet-Only Dilithium
100 of Any Reputation Mark
2 of any Elite Mark
Complete 150 Random Queues
500 Fleet Marks
15,000 Fleet-Only Dilithium
200 of Any Reputation Mark
3 of any Elite Mark
Complete 15 Queues Against Romulans
200 Romulan Marks
1 of any Elite Mark
(Same as Recruit)
Complete 15 Queues Against Humans
100 Terran Marks
100 Discovery Marks
1x Terran Gravimetric Inducer
1x P.stellaviatori Spore Canister
(Same as Recruit)
Complete the "Swarm" queue 5 times
100 Gamma Marks
1x Germanium Carapace Fragment
(Same as Recruit)
Deeds Worthy of Song
[
]
Episodes: Play through the story Episodes.
Complete all missions in all story arcs from "Empire" through "Klingon Civil War". There will be 17 story arc rewards in total, one for each story arc.
Klingon Recruit Goal
Klingon Recruit Reward
Account Reward
Play a Story Arc
3x Klingon Equipment (Rare or Very Rare Quality)
25 of any Reputation Mark
25 Fleet Marks
Complete All Klingon Story Arcs
[

Universal Kit Module - Piezoelectric Execution Sceptre

]
(Same as Recruit)
Notes
[
]
External link
[
]