Fire Emblem Warriors: Three Hopes - The Loop
Play Sound

Kobali
Foreign Policy:
Alliance Building
Allegiance:
Delta Alliance
The Kobali are a humanoid species native to the Delta Quadrant and members of the Delta Alliance. They are known for their unusual reproductive method of reviving corpses of other humanoids and turning them into Kobali.
Biology
[
]
Kobali have six-lobed brains which give them natural abilities in fields such as physics, mathematics and wave phenomena.
Their most distinctive characteristic, however, is their method of reproduction. After series of genetic experiments, Kobali became unable to reproduce using traditional means. They add to their population by using a genetic virus to reanimate deceased members of other species, rewriting the body's genetic code and converting it to Kobali. This process typically results in complete memory loss of the individual's former life. However, sometimes the reborn experience what the Kobali refer to as the kyn'steya, remembering their previous lives and having trouble accepting their new identities as Kobali. Jhet'leya speculates that humans may be more susceptible to kyn'steya.
History
[
]
Originally living a nomadic lifestyle in large generational ships, the Kobali turned an M-class world in the Kotaba Sector into a permanent homeworld around 2320. In 2376, the U.S.S. Voyager made first contact, when a crewmember who had died earlier instinctively sought out her former ship after she was revived by the Kobali.
People
[
]
Bridge officers
[
]
NPCs
[
]
Duty officers
[
]
Missions involved
[
]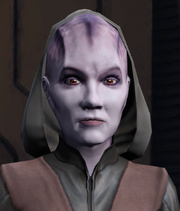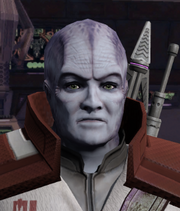 Military
[
]
According to the information discovered by the Alliance Intelligence Network, Kobali technology is similar to Federation. Nevertheless, Kobali vessels often failed to survive encounters with a much more powerful and ruthless Vaadwaur fleet. In 2410, with the assistance from the Alliance, Kobali built a new starship class, Samsar Cruiser, which was more than capable in dealing with the Vaadwaur threat.
Gallery
[
]
Notes
[
]
See also
[
]
External links
[
]
---