Koja Nara
Timeline Change Imminent!

---

This article contains information that no longer applies to the current version of Star Trek Online. It is provided only for historical purposes.

Koja Nara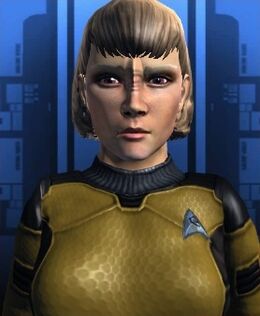 Ensign Koja Nara is a Bajoran bridge officer on board the player's vessel, under the command of Captain Qat'Anmek.
Level
Standard Difficulty
Advanced Difficulty
Elite Difficulty
Shields
Health
Shields
Health
Shields
Health
1
n/a
175
n/a
n/a
n/a
n/a
"Prelude to a Crisis": During the first mission of the game, she reports on the player's success at hailing the U.S.S. Khitomer after interacting with a console to do so. As the rest of the officers aboard the ship, she is killed by a Borg boarding party during the player's mission to save the Khitomer.