Krannek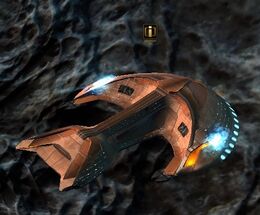 The Krannek is a Ferengi D'Kora-class operated by Farek in the Gamma Quadrant. The ship is used for trade and salvage missions.
"Operation Gamma": The Krannek is hiding within an asteroid in the Idran System, protected by a force field. The player strikes a deal with Farek: salvaging cargo in the system while the Krannek makes repairs, in return for enabling contact with the Dominion.
The Krannek's fate at the end of the mission is determined by the player.