Raise a Floppa - The Loop
Play Sound
"Rodek" redirects here. See Rogaz for the Rura Penthe guard formerly known as Rodek.

Kurn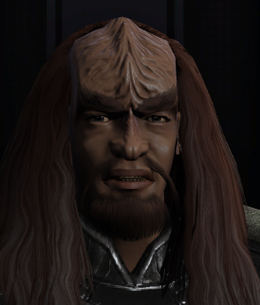 Profession(s):
Information giver
General Kurn, son of Mogh, is a Klingon General who served in the Klingon Defense Force in 24th and 25th Century. He is Worf's brother.
History
[
]
Kurn was only a year old and living on Qo'noS when the Romulan Star Empire attacked the Khitomer outpost where his father and older brother Worf were living. Kurn was subsequently raised by Lorgh, a close family friend. In the year 2366, Duras accused Mogh of conspiring with the Romulans and facilitating the attack on the outpost, at which time Kurn approached Worf on the U.S.S. Enterprise-D and revealed himself to be his brother. The sons of Mogh and Captain Jean-Luc Picard traveled to Qo'noS to contest Duras' allegations, but were forced to accept defeat when it was found that Duras' power within the Klingon High Council was too strong; Worf bore the discommendation of their house alone, as Kurn's lineage remained secret.
A year later, Chancellor K'mpec died after being poisoned. When Duras' sisters Lursa and B'Etor attempted to seize power from Gowron, K'mpec's rightfully-chosen successor, Kurn and Worf fought in the ensuing Klingon Civil War on the side of Gowron with Kurn commanding the I.K.S. Hegh'ta. Following Gowron's victory, the House of Mogh was reinstated.
By 2372, Kurn had earned a seat on the High Council. That same year, the Klingon Empire declared war on the Cardassian Union, alleging that the Cardassian government had been infiltrated by the Dominion. When Worf refused to condone or participate in the conflict, the House of Mogh was again discommendated and Kurn was expelled from the High Council. Kurn then came to Worf, now serving on Deep Space 9, and tried to convince his brother to aid him in the Mauk-to'Vor ritual so that he could die with honor. After the senior officers of DS9 interceded, it was decided that Kurn would be surgically altered and given a new identity; he was henceforth known as Rodek, son of Noggra. He would go on to serve alongside Martok during the Dominion War. By 2410, he has achieved the rank of General in the KDF and is also a member of the Klingon Honor Guard.
At some point during Rodek/Kurn's career, the General had engaged in direct combat with the Tzenkethi Coalition. Whether this was before or after becoming Rodek or even false memories is unclear. He has a wife, B'irja, and at least two daughters, one of whom is Loresinger Juvat.
Missions involved
[
]
Other involvement
[
]
Notes
[
]
Gallery
[
]
External links
[
]
---
---