Kyla VanZyl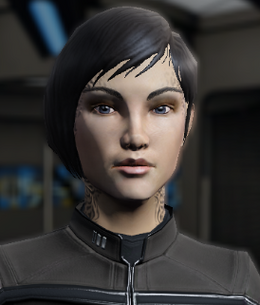 Military Rank:
Lieutenant Commander
Profession(s):
Intelligence Operative
Lieutenant Commander Kyla VanZyl is a Starfleet Intelligence officer.
History
[
]
During the 2405-10 Klingon War she was an aide to Commander Burgess and assisted in the neutralization of a Klingon-controlled Planet Killer.
By 2410 she was promoted to Lt Commander to head up join-Alliance intelligence operations. For that, she was stationed on the U.S.S. Voyager. At some point during her service on Voyager she was infected with a Bluegill parasite. The parasite took control of VanZyl and attempted to prevent Sela from activating an Iconian gate, but was stopped by an Alliance officer. This led to the beginning of the Iconian War, but allowed the Alliance to gain some more information on the Iconians and their Heralds.
Following the reappearance of J'Ula of House Mo'Kai and her Klingon warriors, as well as the incursion of Terran forces from the 23rd century led by Sylvia Tilly, VanZyl was tasked with overseeing the protection of the planet Pahvo.
In 2411, she has joined the A.F.S. Khitomer under Captain Kagran
Missions given
[
]
Missions involved
[
]
Notes
[
]
In the episode "Uneasy Allies", VanZyl is portrayed by voice actress Laura Bailey.
Gallery
[
]