L'Rell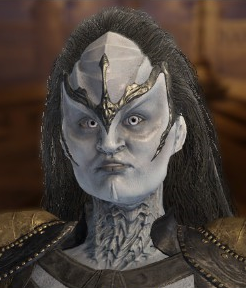 Military Rank:
Chancellor
L'Rell was a follower of the Klingon leader T'Kuvma. She served aboard T'Kuvma's Sarcophagus Dreadnought Carrier in 2256. She later became Chancellor of the Klingon High Council. She was cloned in 2411 by the monks of Boreth as a replacement for the self-declared Emperor J'mpok.
Following the defeat of 'Emperor' J'mpok at the hands of J'Ula, L'Rell assumes the Chancellorship and is located inside the Great Hall in the First City of Qo'noS with J'Ula.
Missions mentioned
[
]
Missions given
[
]
Missions involved
[
]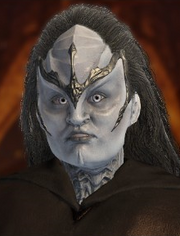 Notes
[
]
Players who have completed "A Day Long Remembered" will see J'mpok phased out in the Great Hall and replaced by L'Rell and J'Ula on stage instead.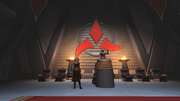 See Also
[
]
External links
[
]
---