Laas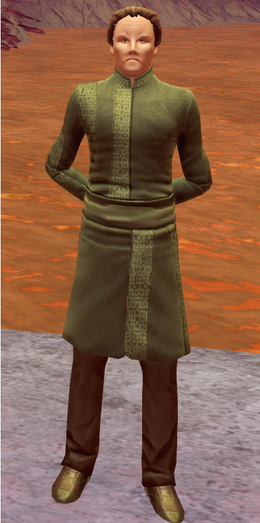 Laas is a Changeling, former leader of the New Link and ally of First Lamat'Ukan of the Alpha Jem'Hadar.
He belongs to the "lost children", shapeshifters who were scattered across the Galaxy by the Founders but given the genetic instinct to return one day. Instead, Laas gathered others of the lost children and formed the New Link in the Alpha Quadrant independently from the Great Link.
History
[
]
In 2375, the last year of the Dominion War, Laas is infected with a morphogenic virus when linking with Odo. In 2384, Laas meets Odo again on Koralis III and is asked on behalf of the Great Link to return to the Gamma Quadrant. Laas declines and, after Odo heals Laas from his infection, instead intends to search for other Changelings in the Alpha Quadrant.
In 2398, Starfleet Intelligence finds out that Laas has arrived with two other Changelings in the Devos System. He is the first to create a new link with them and, as the most experienced, takes leadership. In order to protect his "new Link" and together with First Lamat'Ukan and Gul Madred, Laas tries to form a new Dominion, including the True Way Alliance and the Alpha Jem'Hadar.
In 2400, the Founders declare any shapeshifters active in the Alpha and Beta Quadrant rogue, which may be directed at Laas, but most likely at Undine infiltrators.
Missions involved
[
]
"The New Link": The player and Neman confront Laas and the New Link. After the player defeats Laas in combat, he slowly retreats to the nearby link in his liquid form. The members of the New Link subsequently realize Laas has been lying to them, and that the Dominion was not destroyed as he had told them. Temporal Recruits discover a video record of a Na'kuhl agent offering his people's time travel technology to the New Link, allowing them to undo the result of the Dominion War. Laas says the New Link is not interested in dealing with Solids, and the Na'kuhl agent leaves, urging Laas to remember them if their circumstances ever change.
Missions formerly involved
[
]
"The New Link (original)": To prevent the formation of a new Dominion, Starfleet dispatches a battle group, led by the U.S.S. Indianapolis, to the Orias System in 2409. Following the destruction of the Indianapolis, some of her Escape Pods crash on Orias III and an away team is sent to rescue the survivors. The player discovers the Alpha Jem'Hadar base and the New Link. The Link expels Laas for the failure of his new Dominion and give him over to Starfleet's justice. Laas, consumed by his hatred, fights the player and is liquefied. He can then be and turned over to Starfleet Security and Klingon Intelligence, respectively.
Health
[
]
Level
Standard Difficulty
Advanced Difficulty
Elite Difficulty
Shields
Health
Shields
Health
Shields
Health
39
-1
3736
?
?
?
?
Abilities
[
]
Tentacle Crush: Deals Physical Damage.
Change himself into liquid form(second health of Lass)
Gallery (pre-Season 11)
[
]
Notes
[
]
External links
[
]
---