Raise a Floppa - The Loop
Play Sound

This article is about prime universe version of the character. For other uses, see
Leeta (disambiguation)
.
Leeta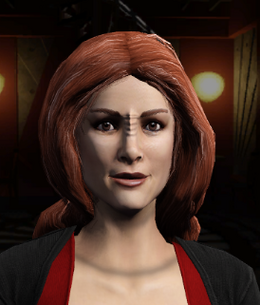 Profession(s):
Dabo Girl
First Lady
Leeta is a former Bajoran Dabo girl and the current First Lady of the Ferengi Alliance.
Biography
[
]
By 2371 Leeta was a Dabo girl on Deep Space Nine, working at Quark's. The young woman formed many friendships with the station's crew and remained on DS9 for most of the Dominion War, even joining Major Kira's resistance during the occupation of Deep Space Nine. By 2373 Leeta entered a relationship with Ferengi engineer Rom, who in 2375 became Grand Nagus of the Ferengi Alliance.
Missions involved
[
]
Other involvement
[
]
"The Golden Nagus": Leeta meets with Rom. They discuss the Hur'q, who have been attacking Ferengi space. After discussing various options, Rom decides to attend an Alliance summit meeting at Deep Space 9 to seek assistance.
Other versions
[
]
Holo-Leeta
[
]
Main article: Holo Leeta
A holographic version of Leeta was developed by Quark Enterprises in the 25th Century. Leeta was approached by her brother-in-law Quark to pose for the hologram, after he ran into some financial troubles. Subsequently, Dabo tables all over the Alpha and Beta Quadrant have been outfitted with a holographic representation of Leeta, to instruct potential customers and motivate them to play.
Mirror Leeta
[
]
Main article: Leeta (mirror)
Her Mirror Universe counterpart is an Admiral in the Terran Empire and the antagonist in several missions. Leeta references her mirror self in "Storm Clouds Gather" as a "real piece of work" whom she found out about via Rom's "information gathering specialists".
Gallery
[
]
See also
[
]
External links
[
]
References
[
]
---