This article is about mirror universe counterpart of Leeta. For other uses, see
Leeta (disambiguation)
.

Leeta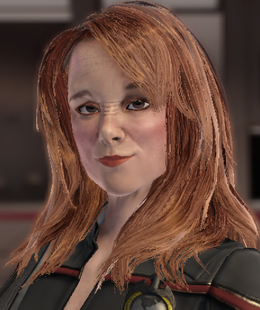 Profession(s):
Information giver
Admiral Leeta is the Bajoran leader of the Terran Empire and the Mirror Universe counterpart to Leeta. She commands the I.S.S. Fortuna and, later, the I.S.S. Enterprise.
"Turns out the evil version of me is an admiral there. Real piece of work, wears a lot of leather, carries a whip..."
- Leeta on Leeta (mirror)
Missions involved
[
]
Missions mentioned
[
]
"Storm Clouds Gather": Leeta discusses her mirror universe counterpart.
"Quark's Lucky Seven": Starfleet intelligence logs state that they hope Admiral Leeta's recent lack of activity shows she has given up attacking the prime universe.
Other involvement
[
]
Gallery
[
]
See also
[
]
External links
[
]
---