This article is about mirror universe counterpart of Leeta. For other uses, see
Leeta (disambiguation)
.

Leeta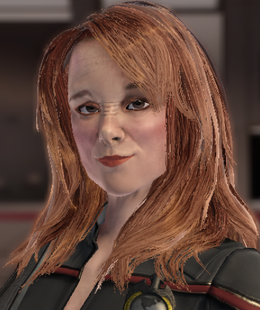 Profession(s):
Information giver
Admiral Leeta is the Bajoran leader of the Terran Empire and the Mirror Universe counterpart to Leeta. She commands the I.S.S. Fortuna and, later, the I.S.S. Enterprise.
"Turns out the evil version of me is an admiral there. Real piece of work, wears a lot of leather, carries a whip..."
- Leeta on Leeta (mirror)
Missions involved
[
]
Missions mentioned
[
]
"Storm Clouds Gather": Leeta discusses her mirror universe counterpart.
"Quark's Lucky Seven": Starfleet intelligence logs state that they hope Admiral Leeta's recent lack of activity shows she has given up attacking the prime universe.
Other involvement
[
]
Terran Task Force reputation faction
"Counterpoint" (blog): Admiral Leeta records a brief blog entry as she prepares to expand the Empire beyond the confines of her universe.
"Aftershocks": After returning to the Mirror Universe following her latest defeat, Admiral Leeta receives orders from the Emperor to surrender command of the Enterprise to Commander Jarok. Before she and her crew can make their escape, the Enterprise is attacked by the I.S.S. Pastak, along with the Tempus and Poh; however, Leeta is able to transmit a secret code which disables the vessels and allows the Enterprise to destroy the Pastak, after which the other vessels pledge their loyalty to Leeta. She prepares to find new allies, using information downloaded from New Khitomer in the other universe.
Gallery
[
]
See also
[
]
External links
[
]
---