Leonard James Akaar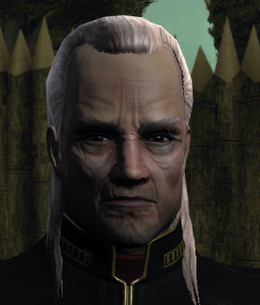 Military Rank:
Fleet Admiral
Profession(s):
Fleet Admiral
Leonard James Akaar is a Capellan Starfleet Admiral. Akaar was the hereditary leader, or Teer, of the Ten Tribes of Capella. Akaar was born in 2267 and was named after Starfleet officers Leonard McCoy and James T. Kirk, both of whom saved his life and the life of his mother Eleen after his father's assassination. He is one of the many notable characters who can be found at the Captain's Table. He is located in the Bar, talking to Captan Leskit and an unnamed Orion Captain.
Background Information
[
]
Admiral Akaar is a recurring character in many of the Star Trek novels and comic books, most notably the Deep Space Nine relaunch series of novels.
Missions formerly involved
[
]
External links
[
]
---