Raise a Floppa - The Loop
Play Sound

Leonard McCoy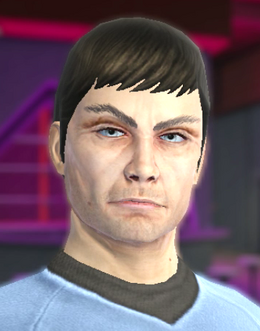 Dr Leonard "Bones" McCoy was a Starfleet doctor and Admiral who rose to fame as Chief Medical Officer of the U.S.S. Enterprise.
History
[
]
Leonard McCoy was born in 2227 on Earth. He started his studies of medicine by 2245 and made several important medical discoveries during the 2250s and 2260s.
In 2265 McCoy was stationed at Drozana Station. There he pioneered a neural rejuvenation procedure and managed to help several crew members during a strange and unprecedented epidemic.
In 2266 McCoy was assigned to the U.S.S. Enterprise. He took part in that ship's famous five year mission under Captain James T. Kirk. While he originally planned to retire, he later served aboard the ship until its destruction in 2285. He also served aboard the Enterprise-A and spent time in the Klingon prison Rura Penthe during the first Khitomer crisis.
By 2364 McCoy was promoted to Admiral. He was present at the maiden voyage of the U.S.S. Enterprise-D.
Missions
[
]
"Earthward Bound": McCoy advises the player to always follow their doctor's orders. He also states that he feels he has given the player advice before.
"Everything Old is New": The player assists McCoy with treatments onboard Drozana in the 23rd century.
Notes
[
]
McCoy was the first main character of The Original Series to visually appear in Star Trek Online. He was also one of the first characters who was modeled to resemble their actor's likeness.
He is not mentioned in "Past Imperfect" but it is possible that McCoy is aboard the Enterprise during the mission.
McCoy might be deceased by 2409 as the U.S.S. McCoy is likely named in his honor.
His voice lines in the game are recordings of dialogue from the original Star Trek television series.
External Links
[
]
---