Fire Emblem Warriors: Three Hopes - The Loop
Play Sound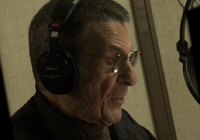 Leonard Nimoy was an American actor, director, writer and photographer best known for portraying Spock in the original Star Trek series, a role he reprised in Star Trek Online.
Biography
[
]
Leonard Nimoy was born on March 26, 1931. Nimoy began his career in his early twenties, teaching acting classes in Hollywood and making minor film and television appearances through the 1950s. In 1965, Nimoy made his first appearance as Spock in the rejected Star Trek pilot "The Cage". Over the years, Nimoy appeared in all episodes of Star Trek: The Original Series and Star Trek: The Animated Series, reprising his role for two episodes of Star Trek: The Next Generation, as well as appearing in six original and two Kelvin Timeline Star Trek films.
Besides his involvement in the Star Trek franchise, Nimoy appeared in numerous other roles, perhaps most famously in Mission Impossible and Fringe. Nimoy died on February 27, 2015, from chronic obstructive pulmonary disease at the age of 83.
Star Trek Online
[
]
Leonard Nimoy has appeared in-game since February 2, 2010 (game launch).
Missions Involved
[
]
Additional voice-overs
[
]
Gallery
[
]
Notes
[
]
Leonard Nimoy was the first Star Trek actor to reprise his role in Star Trek Online, appearing in-game during its initial launch. However, actor Zachary Quinto (who portrays Spock in the new

Star Trek

movies) also appeared at the time as the EMH of the U.S.S. Khitomer.
The mission "Past Imperfect" originally only featured voice overs. Spock's likeliness was only included in the mission when it was remastered during Season 8.5.
Upon hearing the news of Nimoy's death in February 2015, many players visited Vulcan in-game to pay tribute to the legacy of the beloved actor. A memorial to Nimoy was erected on Vulcan and New Romulus in Star Trek Online the following week. Black banners were displayed on Earth Spacedock, New Romulus Command, and First City during a week of mourning from March 5 through 12.
See also
[
]
STOWiki articles
[
]
External
[
]
---