Lepa

Lepa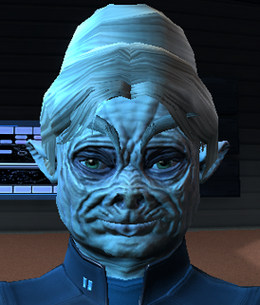 Military Rank:
Lieutenant
Profession(s):
Mission contact
Science Officer
Nurse
Lepa is a medical officer at Deep Space K-7. She works as a nurse in Dr. Yoc'm's lab, that can be reached through the Turbolift in Club K7.
Missions formerly involved
[
edit
|
edit source
]
"Quarantine": The player delivers a shipment to Dr. Yoc'm from Lt. Mai. Nurse Lepa accepts the crates and manages the paperwork. When it turns out, that an alien bacteria has escaped the containers and the player's ship and K7 come under quarantine, Lepa helps the player in finding the right equipment in the lab to research an antigen. Although in her opinion, the player is less than qualified to do so.