Raise a Floppa - The Loop
Play Sound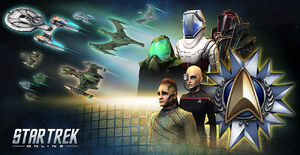 Lifetime Subscription (LTS) is an option for players to purchase a set of exclusive perks for $299.99 USD (comparable to 30,000

). On Xbox One and Playstation 4, the Lifetime Subscription is available within the Zen Store for 25,000

instead.
A subscription was previously available on a monthly rolling basis which has since been withdrawn. However, some players who participated in the monthly subscription but never bought the lifetime option will have unlocked some or all of the rewards below without having proceeded to buy the Lifetime option.
Stipend
[
]
Lifetime subscription offers 500

a month on the PC. Due to legalities on Xbox One and Playstation 4, the 500

stipend and automatic dilithium refining is not offered, resulting in the lower price.
Species and officers
[
]
Playable Liberated Borg Human

Playable Liberated Borg Klingon

Playable Liberated Borg Romulan

Playable Talaxian
Costumes
[
]
Starships
[
]
Chimera Heavy Destroyer (T5).

Small Craft Captain's Yacht.
Peghqu' Heavy Destroyer (T5).

Duvqu' Heavy Destroyer (T6).

Small Craft DujHod Chariot.
Daeinos Heavy Destroyer (T5).

Dinaes Warbird Destroyer (T6).

Small Craft Commander's Gig.
Tokens, slots and boosts
[
]
Accolades and titles
[
]
Other rewards
[
]
And;
A unique Duty Officer Assignment for additional dilithium refining.
Priority login.
Access to Tribble (server) during major releases.
Sales
[
]
The standard cost of the lifetime subscription is currently $299.99 USD.
This price has been temporarily reduced several times; some of those previous sales are listed here:
$239.99 (Pre-Order - Saturday, January 16 to 11:59 PM on Monday, February 1, 2010 PST/GMT–8)
$239.99 (One Year Anniversary - 6 AM on Tuesday, January 25 to 10 AM on Friday, February 4, 2011 PST/GMT–8)
$239.99 (Tax Relief Weekend - Thurdsay, April 14 through 10 AM on Monday, April 18, 2011 PST/GMT–8)
$199.99 (Season 5 Release - Thursday, December 1 to 10 AM on Monday, December 19, 2011 PDT/GMT–7)
$199.99 (Graduation sale - Tuesday, June 5 to 3 PM on Friday, June 29, 2012 PDT/GMT–7)
$199.99 (Instant Veteran Reward perks launch - Tuesday, October 9 through 12 PM on Monday, November 12, 2012 PDT/GMT–7)
$199.99 (Legacy of Romulus launch - Tuesday, May 21 through 10 AM on Friday, June 21, 2013 PDT/GMT–7)
$199.99 (Season 8 Release - Tuesday, November 12 through 10 AM on Thursday, December 5, 2013 PDT/GMT–7)
$199.99 (Season 9 During Summer Event - Thursday, June 19 through 10 AM on Thursday, July 10, 2014 PDT/GMT–7)
$199.99 (Delta Rising Release - Thursday, October 30 through 10 AM on Monday, December 1, 2014 PDT/GMT–7)
$199.99 (During Summer Event - Thursday, June 11 through 10 AM on Thursday, July 9, 2015 PDT/GMT–7)
$199.99 (Agents of Yesterday Release - Thursday, July 14 through 10 AM on Thursday, August 11, 2016 PDT/GMT–7)
$199.99 (Agents of Yesterday: Artifacts Release - Thursday, November 3 through 10 AM on Wednesday, November 23, 2016 PDT/GMT–7)
$199.99 (During Summer Event - Thursday, June 22 through 10 AM on Thursday, July 27, 2017 PDT/GMT–7)
$199.99 (First Contact Day sale - Tuesday, February 27 through 5 PM on April 5, 2018 PDT/GMT–7)
$199.99 (Flash Sale - Friday, September, 28 through 10 AM on October 1, 2018 PDT/GMT–7)
$199.99 (Thursday, November 1 through 10 AM on December 6, 2018 PDT/GMT–7)
$199.99 (Mirror of Discovery Release Flash Sale - Thursday, January 29 through 12 PM on January 30, 2019 PDT/GMT–7)
$199.99 (Thursday, February 28 through 10 AM on April 4, 2019 PDT/GMT–7)
$199.99 (During Summer Event - Thursday, June 27 through 10 AM on August 1, 2019 PDT/GMT–7 2019)
$199.99 (Enterprise Returns Weekend Sale[1] - 12pm PT on September 20th until 12pm PT on September 22nd 2019)
$199.99 (Jem'Hadar Veteran Rewards Promotion - Thursday, October 24 through 10 AM PT on November 2019)
$199.99 (Black Friday Flash Sale - December 25th at 10am PT to December 28th at 10am PT 2019)
$149.99 (10 Year Anniversary Event - 25 January 2020 to 1 February 2020)
$149.99 (Flash sale - 23 May to 25 May 2020)
$199.99 (June 18th 2020 at 8am PT to July 23rd 2020 at 10am PT)
$199.99 (November 5th 2020 at 8am PT to December 10th 2020 at 10am PT)
$150.00 (February 5th 2021 at 12pm PT to February 8th 2021 at 12pm PT)
$199.99 (March 11th 2021 at 8am PT to April 10th 2021 at 12pm PT)
External Links
[
]