Logan Kurtis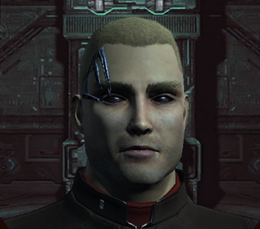 Profession(s):
Mission contact
Logan Kurtis, is a male Liberated Borg Human and part of the Cooperative.
Missions involved
[
]
"Unity": Players meet Logan in the Brothra System where his ship as well as several Cooperative and Octanti vessels commanded by Xar have been attacked by the Vaadwaur. After repairing his ship, he helps the player in getting the other ships operational and fending off further Vaadwaur attacks.
Notes
[
]
Logan's uniform suggests that he was only recently assimilated by the Collective when he was liberated by the Cooperative, and that he was formerly a Starfleet officer.