GTA: The Criminal Enterprises - The Loop
Play Sound
Lohlunat Festival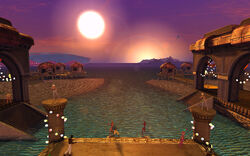 Facilities Available
Map of Lohlunat Festival
"Blessed Lohlunat!"
During the special Lohlunat Festival Seasonal Event, captains of all factions (Levels 10 and above) can visit the Summer Resort on Risa – to celebrate their culture's welcoming diversity, the Risians have even granted special access to members and allies of the Klingon Defense Force.
Although most activities here are only available during the summer event, the Lohlunat Festival island can be visited all year round. While the summer event is active, however, holiday travelers can purchase floaters – grav-generating glider packs – to explore the island, and also to participate in a series of flying courses. Furthermore, [Lohlunat Favors] can be earned, which can be traded for various accessories and costumes.
Outline
[
]
Players can transwarp directly to the Risa System via the Mission Journal and beam down to the special event. Alternatively, players can travel through Sector Space to Risa, located in the Beta Quadrant.
Event Grand Prize
[
]
Participate in any of the listed Summer Event activities marked below with

symbol once per day, per Account, to earn Daily Progress toward the Event Grand Prize. Alternatively, the Grand Prize can be bought out immediately for 1000 x


[Lobi Crystal] (which will be pro rate discounted if the player has accumulated any

on their Account).
Event Date (All Platforms)
Event Input
Event Grand Prize
June 30, 2022 - July 30, 2022
20 x Appointment Progress
1000 x [

Lobi Crystal

] (Buyout)
Cnidarian Defender
Availability Legend
[
]
Some of the below activities are always available, others - during the event only:
(A) - always available (i.e. available 365 days a year, even when the event is not running).
(E) - available during the event only.
(E) Missions
[
]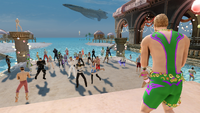 All missions are available during the event only, and all except the introductory one can be repeated.
Introductory Mission
[
]
On Demand Missions
[
]
Scheduled Open Missions
[
]
Schedule
[
]
The following missions rotate through a 90 minutes schedule. Their upcoming timeslot can be seen in the Summer Event UI.
Every mission will be at the same timeslot every 3 hours. For the sake of this list the daily rotation starts at 0100 UTC with Dance Party. The full list of start times for each mission are as follows:
(E) Duty Officer Assignments
[
]
All the below assignments are available during the event only, and all can be repeated.
(A)/(E) NPCs
[
]
Resort
[
]
Boardwalks
Resort Interior
Promenade
[
]
Sovak's Camp
[
]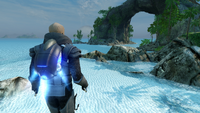 South Beach
[
]
(A) Pavyl - Gives you clues to play Hide and Seek during the day; hides at nightfall
Elsewhere
[
]
(A) Nervous Vacationer - Random civilians who have gotten themselves into uncomfortable situations.
(A) Tribbles
[
]
(A)/(E) Accolades
[
]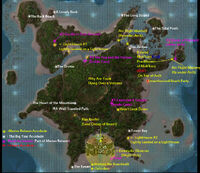 Notes
[
]
The "Master Relaxer" accolade is required to purchase very rare Risian doffs.
Risa had a day/night cycle until the new lighting system was introduced in 2017.
Prior to the release of Victory is Life, Qwen used to run Sovak's scavenging camp.
(E) Historical Grand Prizes
[
]
(E) Historical Summer Giveaways
[
]
To celebrate the end of the summer event, Cryptic started C-store item giveaways that people could log on and get something special that was marked 100% off for that day. These would be available for one day only.
2014 Summer giveaway (While not directly part of the Summer event, this was counted as being part of Summer)
Gallery
[
]
External Links
[
]
---
Hubs, Starbases and Adventure zones
Federation
Social
Earth Spacedock • Earth Spacedock (23rd Century) • Deep Space K-7 • Starbase 39 • Starfleet Academy • Starfleet Academy (23rd Century)
Mission
Facility 4028 • Deep Space K-13 • Delta Volanis Science Station • Donatu Research Station • Donia Space Station • Jupiter Station • Sierra Outpost II • Starbase 1 • Starbase 24 • Starbase 80 • Starbase 82 • Starbase 114 • Starbase 157 • Starbase 234 • Starbase 236 • Starbase 375 • Starbase 621 • Korvat Medical Lab • Omar Space Station • Outpost Quebec Alpha • Penal Colony 47 • San Francisco Fleet Yards • Tazi Space Station • Treasure Trading Station • Utopia Planitia Shipyards • Vulcan Space Dock
Klingon
Social
First City (Qo'noS) • Ganalda Station • Klingon Academy
Mission
Lackey Listening Post • Bomari Listening Post
Romulan
Social
New Romulus Command • Romulan Flotilla
Mission
Gasko Station • Rh'Ihho Station • Vauthil Station • Virinat • The Vault
Other/
Neutral
Social
Captain's Table • Deep Space 9 • Delta Quadrant Command • Drozana Station • Dyson Sphere Joint Command • Hathon (Bajor) • Kobali City • Risa • New Romulus Staging Area • Paradise City
Adventure
Lohlunat Festival • New Romulus • Nimbus III • Q's Winter Wonderland • Solanae Dyson Sphere
Battle
Badlands Battlezone • Borg Invasion of Defera • Gamma Quadrant Battlezone • Kobali Prime • Tholian Incursion • Tzenkethi Battlezone • Voth Battlezone • Undine Battlezone
Mission
Deferi Outpost 3 • Dyson Sun Control • Kyana Research Station • Na'kuhl Temporal Facility • Outpost 001 • Station Alpha • Suliban Helix • Storage Facility Z98 • Terok Nor (mirror)