Raise a Floppa - The Loop
Play Sound

Loriss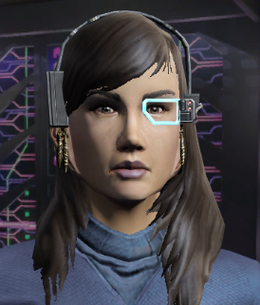 Profession(s):
Bridge Officer Vendor
Loriss is a series of Vorta diplomats in service of the Dominion in 24th and 25th century. Like other Vorta, Loriss is a clone; by 2410, four copies are known to have existed, two of which were encountered by the Alliance.
Loriss 3
[
]
Loriss 3[1], cloned in the Gamma Quadrant in the 24th century, commanded the Jem'Hadar fleet which was temporally displaced from 2374 to 2409 by the Prophets.
Missions involved
[
]
"Second Wave": The Borg conference at Deep Space 9 is interrupted by the Dominion fleet whisked away by the Prophets decades ago. DS9 is taken by the enemy forces and Loriss 3 transports to the Ops, introducing herself as the new station commander while nonchalantly walking into Captain Kurland's office.
"Of Bajor": Captain Kurland and the player succeed in contacting occupied DS9. They try to prove that Loriss' fleet has been moved through time but the temporary governor of the station is not convinced.
"Boldly They Rode": The female Changeling orders Loriss to stand down and return to the Gamma Quadrant. She obliges, but Kar'ukan refuses to listen to either of them. Following the battle over Deep Space 9, she thanks the player for his help in returning her to her gods, unaware that her failures would not go unpunished.
Missions mentioned
[
]
"Scylla and Charybdis": Loriss 4 mentions that her predecessor was a source of division.
"The Search" Weyoun states that Loriss 3 "thought she served the Founders well, quite possibly to the moment her unfortunate life came to its conclusion. As we both know, she was greatly mistaken."
Loriss 4
[
]
Following her return to the Gamma Quadrant, Loriss 3 was presumably terminated. Loriss 4, her successor, was assigned to Ambassador Odo.
In 2410, following the Hur'q return, Dominion forces led by Odo and Loriss 4 crossed the Bajoran Wormhole to assist Alliance forces in the battle over Bajor.
Missions given
[
]
Missions involved
[
]
Other involvement
[
]
Store
[
]
Loriss 4, located at the Dominion Embassy on the DS9, acts as a bridge officer vendor for
Dominion players. On request she also provides (at most once every 20 hours ) 1 x [Bundle of Ketracel White] containing 20 x [Ketracel White] for Dominion players who pledge loyalty to the Founders.
(NB. Dominion players can always replicate unlimited amounts of [Ketracel White] for free.)
Icon
Name
Price
[

Jem'Hadar Engineering Officer Candidate

]
230
[

Jem'Hadar Science Officer Candidate

]
230
[

Jem'Hadar Tactical Officer Candidate

]
230
[

Jem'Hadar Engineering/Command Officer Candidate

]
230
[

Jem'Hadar Science/Command Officer Candidate

]
230
[

Jem'Hadar Tactical/Command Officer Candidate

]
230
[

Jem'Hadar Engineering/Intelligence Officer Candidate

]
230
[

Jem'Hadar Science/Intelligence Officer Candidate

]
230
[

Jem'Hadar Tactical/Intelligence Officer Candidate

]
230
[

Jem'Hadar Engineering/Pilot Officer Candidate

]
230
[

Jem'Hadar Science/Pilot Officer Candidate

]
230
[

Jem'Hadar Tactical/Pilot Officer Candidate

]
230
Gallery
[
]
---
---