Raise a Floppa - The Loop
Play Sound

Lukari N'Kaam Scout Ship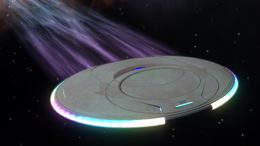 Requires an
Upgrade Token
Hull:

| | |
| --- | --- |
| Tier 5: | 27000 |
| Lvl 40 T5U: | 27000 |
| Lvl 45 T5U: | 29250 |
| Lvl 50 T5U: | 31050 |
| Lvl 55 T5U: | 33525 |
| Lvl 60 T5U: | 36000 |
| Lvl 65 T5U: | 40500 |
Matter-Antimatter
Ho'kuun-class
 ~Science Vessel Variants
The Lukari N'Kaam-class Scout Ship is a Tier 5 (Level 40) Scout Ship which may be flown by characters of any faction.
Players can obtain this starship as a ultra rare drop from the [Infinity Lock Box]; it comes in an [Infinity Prize Pack - T5 Ship] choice package, which is bound to you until a ship is chosen. It can also drop from the older [Tzenkethi Lock Box]. The boxed ship is not bound and so may be traded to other players or bought and sold on the Exchange for energy credits under the name [Special Requisition Pack - Lukari N'kaam Scout Ship].
Overview
[
]
In the process of making the more state-of-the-art Ho'kuun, the Lukari also experimented with smaller, lighter spacecraft. Scout Ships are a unique combination of Science Vessel capabilities, in a much smaller, faster and more fragile package. They come with built-in Sensor Analysis and Subsystem Targeting, as well as a Secondary Deflector slot, and are able to benefit from Raider Flanking bonuses as well. These nimble vessels are also similar to a Raider in that they boast an abundance of universal bridge officer seats, can load dual cannons, and have similar weapon slot configurations.
Class variants
Class
Information

Ho'kuun-class

SKIN UNLOCK: Lukari Ho'kuun Science Vessel, 1

---

The Ho'kuun-class is the first warp capable starship entirely of Lukari design. The Lukari flagship, L.S.S. Reskava, is a member of this class. The ship is of relatively simple design, consisting of a triangle-shaped main hull with a large bridge dome and a round impulse engine exhaust attached to its aft.

N'Kaam-class

SKIN UNLOCK: Free with this starship

---

The N'Kaam-class is a smaller spacecraft compared to Ho'kuun-class, consisting only of a round-shaped main hull. Its shape reminds of the popular UFOs allegedly sighted by members of humanity sometime during the 20th century.

Dranuur-class

SKIN UNLOCK: Lukari Dranuur Scout Ship, 20,000 , 5

---

The Dranuur-class is the latest addition to a modest Lukari fleet. It continues the minimalist design trend set by the Ho'kuun-class and N'Kaam-class, consisting of only a boomerang-shaped main hull. The Dranuur-class has been built in cooperation with the Kentari.
Starship Mastery
[
]
Starship Mastery
SCOUT SHIP
Level
Name
Description
I
Precise Weapon Systems
+5 Accuracy Rating.
II
Enhanced Particle Generators
+15% Damage to Exotic Damage abilities.
III
Enhanced Weapon Banks
+15% Critical Severity.
IV
Enhanced Restorative Circuitry
Improves Hull healing abilities by 10%.
Improves Shield healing abilities by 10%.
Abilities
[
]
Raider Flanking
Frigates, Light Escorts, Raiders, and Scout Ships come with a built-in passive damage boost available when striking an enemy's rear arc. To support their high turn rate and maneuverability, standard raider flanking grants:
Sensor Analysis
[
]
Sensor Analysis is an active toggle ability. While maintaining a Sensor Lock on a target, the player gains a stacking effect that either improves the damage and power drain against an enemy, or improves any heal directed towards an ally. This effect stacks every 3 seconds, to a maximum of 6 stacks after 18 continuous seconds. To maintain the desired effect, the player must hold the sensor lock.
Subsystem Targeting
[
]
The Lukari N'Kaam-class Scout Ship comes with built-in Subsystem Targeting abilities. These built-in abilities stay at Rank I and do not automatically rank up when acquiring higher tier Science starships. They are separate from Subsystem Targeting abilities gained through Tactical Space Bridge officer abilities.
Activating a subsystem targeting ability will upgrade all energy weapons to inflict a stacking power drain on the foe's targeted subsystem for the next 10 seconds. They will also have a small chance to knock the targeted subsystem offline for a short duration.
Standard configuration
[
]
Federation starships come with standard equipment and weapons of the lowest mark available at the ship's minimum rank. The items provided are appropriate to the type of vessel and its related playing style.
T5-X upgrade
By using an [Experimental Ship Upgrade Token], the Lukari N'Kaam-class Scout Ship may be upgraded to T5-X, unlocking an extra ship device slot, universal console slot, and the ability to slot an extra starship trait.
Ship comparison
[
]
The following table compares cross-faction Scout Ships.
Ship

Rank

Tier

Hull

 
 
 

Uni

BOffs

IR

Cost

Lukari N'Kaam Scout Ship

40

5
27000
0.9
1.1
3
3
✓
3
2
4
2
✗
✗
18
0.2
80
Lukari Dranuur Scout Ship

1

6
34155
0.99
1.21
3
3
✓
4
2
5
2
✗
18
0.2
80
20,000  • 5
Vulcan T'Pau Scout Ship

1

6
31050
0.9
1.3
3
3
✓
3
3
5
2
✗
19
0.2
80
17,000
Vulcan Experimental Scout Vessel

1

6
27600
0.8
1.35
4
2
✓
3
3
5
2
✗
20
0.23
80
• 29,500
Admiralty ship
[
]
Admiralty Ship
16
31
36
2.5x Critical Rating from SCI
Notes
[
]
External links
[
]