Fire Emblem Warriors: Three Hopes - The Loop
Play Sound
Madran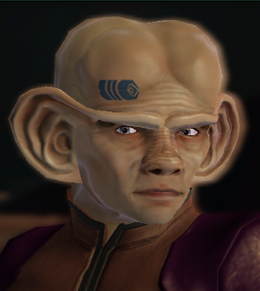 Profession(s):
Mining foreman
Contractor
Madran is a Ferengi entrepreneur who, in 2387, acquired mining rights in the Hfihar System. He enlists hundreds of Romulan refugees, who he treats little better than slaves. In 2411, following the defeat of Hassan the Undying, he took over in running the Shangdu bar and arena on Nimbus III under 'Madran Enterprises'.
Missions involved
[
]
Other involvement
[
]
"Of Hawks and Doves": It is revealed that Madran was the first Ferengi to make contact with the Lukari. Administrator Kuumaarke found him "greedy and belligerent."
"The Means to an End": It is revealed that Madran had been hired by the Tzenkethi to purchase the Lukari's data on Protomatter technology prior to 2409. He failed to do so, but was offered a significant sum to steal the information instead. It is implied that he succeeded in this assignment, becoming wealthy enough to purchase a ship of his own.
Memorable quotes
[
]
[Madran, desperate] "My dear friend Kuumaarke, just think of how much I can help!"
[Kuumaarke, firm] "I try not to think about you at all, Madran."
- Kuumaarke, to Madran in the Lukari System ( "Echoes of Light")
Notes
[
]
Madran was originally not voiced during his first appearance in "Mine Enemy". Updates to the game in 2018 included new voice over for Madran in "Mine Enemy"
Madran's design was updated from Season Twenty-one: House Shattered with a change of his uniform colours.