Madred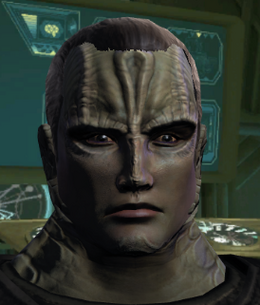 "Shall we begin again? How many lights are there?"

- Madred to Picard in 2369
Gul Madred is the Cardassian leader of the True Way, a group determined to overthrow the Detapa Council and re-establish Dominion rule over Cardassia Prime.
History
[
]
Having grown up in the streets of Lakat on Cardassia Prime, Madred had advanced to the rank of Gul in the Cardassian military by 2369, when he unsuccessfully interrogated Captain Jean-Luc Picard.
In 2389, Gul Madred, aquired the rights to several mineral rich planetoids and began building a large mining operation in the Septimus System. The following year, Madred and his followers, abusing the expansions in freedom of speech and assembly established by the Detapa Council, organized rallies promoting a return to the "true" ways of the Cardassian Union.
By 2392, many former Cardassian military officers were employed in Madred's mining facilities in the Septimus System, which, by that time, had grown enough to export their exploits, e.g., to rebuilding Romulan colonies. Claiming that the Cardassian Defense Force was unable to protect his mines from raiders, Gul Madred contacted Lamat'Ukan, leader of the Alpha-Jem'Hadar, in 2393 in order to hire a private security force against the protest of the Detapa Council. By 2402, Cardassian Intelligence confirmed that at least 75 Galor Class-warships missing since the end of the Dominion War were most likely in Gul Madred's possession.
Missions formerly involved
[
]
Notes
[
]
Although Madred is the same Gul, that tortured Jean-Luc Picard on

Celtris III

, the now removed mission "The Long Night" used to depict him much younger than

Star Trek: The Next Generation

. This might have been due to engine limitations to combine multiple "base complexions" at the game's launch or Cryptic has not acquired the rights to use the likeliness of David Warner. That said, in "The Long Night" Madred did in fact refer to himself as an old man.
External links
[
]
---