Raise a Floppa - The Loop
Play Sound

Martok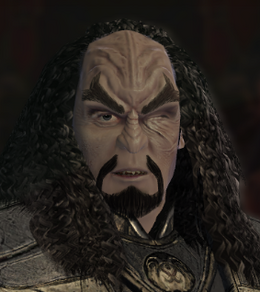 Being born in the poor Ketha Lowlands on Qo'noS, Martok became the head of the House of Martok and worked his way up the ranks of the Klingon military, finally serving as Chancellor of the Klingon High Council from 2375 until his apparent death at the hands of J'mpok in 2393. In 2410, it is revealed that Torg intervened after J'mpok delivered what should have been the killing blow, taking Martok prisoner in the Son'a Facility 617 at the Briar Patch.
Following his liberation, he does not wish to seek Chancellorship from J'mpok, retaining his old rank of General instead and actively joining the Alliance in their fights against numerous current threats and enemies.
History
[
]
Missions involved
[
]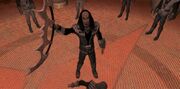 "The Khitomer Discord": J'mpok sends General Martok to accompany the player in hunting for J'Ula and her House Mo'Kai forces in the Khitomer System, referring them as the Alliance's best. Martok first aids in the defense of the A.F.S. Khitomer commanded by Captain Kagran before beaming down. After speaking to the faction representatives and Chairman Ksenneta, they travel toward the lower levels via signal tracing where they capture J'Ula's forces. They then confront J'Ula and Aakar, whereupon Aakar retreats while J'Ula is captured. With the help of Adet'pa, they managed to get back upstairs where they defeat Klingon forces led by Ja'rod, who were sent by J'mpok. Martok swears that J'mpok will no longer have allies when everyone learns what he has done. After J'mpok launches a mycelial weapon on Khitomer, Martok aids the player in rescuing survivors while they head to the transporter room, protecting Adet'pa in the process as she gets the transporter running. In orbit, Captains Kagran, Va'Kel Shon and Koren warp in where J'mpok silences the player before they could explain themselves, dishonorably accuses them of betraying the Alliance and joining House Mo'Kai. Refusing to stand down with the player, Martok orders to disable the flagships and their forces instead of destroying them. Koren or Shon, depending on the player's faction, informs the player that J'mpok will soon declare everyone, including Martok, an enemy of the Empire and advises them to leave Khitomer and wait for their signal once it is safe to return.
"A Day Long Remembered": With allies gathered and preparing for the final battle of Qo'noS, Martok laughs heartily as he reminisces a time when a young Ferengi Starfleet cadet told three Klingons, himself included, to move. Reinforcing that courage comes in all sizes as the boy had more courage than ten nuchpu's surrounding J'mpok. Along with the player, J'Ula and L'Rell, Martok motivates everyone with a speech and waits for the player's word before departing for Qo'noS. In orbit of Qo'noS, the Rotarran charges into battle with the player and their allies as they defeat Lethean, Nausicaan, Ferasan and later J'mpok's flagship and his forces. J'mpok flees back into the Great Hall and Martok advises J'Ula to issue a formal challenge, having known J'mpok longer than anyone and that his arrogance will not allow him to refuse. On the surface, the player, Martok, J'Ula and L'Rell fight through more of J'mpok's forces as they make their way to the courtyard outside the Great Hall. Before they could make their next move, Aakar wounds Martok from behind and he is forced to beam back to the Rotarran, but not before handing the Sword of Kahless to L'Rell. Two weeks following the defeat of J'mpok, Martok is seen celebrating with Worf, Captain Koren, and their allies from House Kang and Korath. The player checks up on him, where he remembers the unpleasant experience running away from a mycelial destruction, but is pleased with J'mpok and Aakar in Gre'thor. This however, means the release of Gowron from Gre'thor to Sto-vo-kor which pleases Martok, knowing that Gowron was probably on his way to taking charge of Fek'lhr's Hall when he was released.
"Remain Klingon": After being wounded by Aakar which forced him to beam back to the Rotarran, Martok aids Adet'pa and Kagran coordinating Alliance efforts in destroying the Kri'stak and the Targ. When the Kri'stak targets a player's ship, Martok instructs them to swiftly move into the Targ's position, allowing the mycelial weapon to hit and the Mo'Kai virus to disable her. Martok will also instruct players to destroy repair ships and cloaking devices aiding the Kri'stak, and when both ships are disabled, he targets the two flagships alongside players and destroys them.
Other involvement
[
]
Gallery
[
]
Notes
[
]
See also
[
]
External links
[
]
---
---