Fire Emblem Warriors: Three Hopes - The Loop
Play Sound
Timeline Change Imminent!

---

This article or section contains information that no longer applies to the current version of Star Trek Online. It is provided only for historical purposes.

Memory Alpha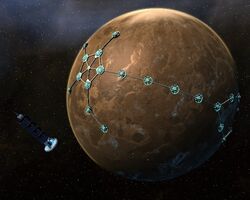 Facilities Available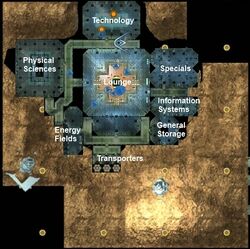 Map of Memory Alpha
Until its removal from the game on 17 July 2014, Memory Alpha was the center for crafting for Federation players. The NPCs at Memory Alpha introduce the player to crafting, and enables players to create weapons and equipment by collecting data samples and using one of the research stations provided.
Locations
[
]
Lounge
[
]
The Lounge, also known as General R&D, is located in the central plaza. In addition to the main research station, players will find the bank, the exchange, and mail consoles.
General Storage
[
]
The general storage area is to the south east of the facility, and is where anomalous data samples are kept.
T'Pren, who explains the basics of gathering data samples and crafting
Energy Fields R&D
[
]
The area to the south-west of the lounge is Energy Fields R&D, where engineering research is carried out.
Physical Sciences R&D
[
]
The area to the west is occupied by Physical Sciences R&D, where science research is done.
Technology R&D
[
]
The area to the north of the facility is devoted to the technology specialism, in which tactical research is performed.
Lieutenant Commander Anichent
Commander Shann
Quex, who sells basic versions of some craftable items
How to Start Crafting
[
]
The player must first gather data samples either in space or while on away missions. These are then used to create the basic ingredient in each crafting recipe; a schematic. With a schematic of the correct type and sufficient data samples, the player can then fabricate items at one of the research consoles. Each item crafted will increase the player's crafting skill, which unlocks more advanced crafting recipes.
Missions involved
[
]
Images
[
]
Notes
[
]
There are several research consoles at Memory Alpha, all of which function identically.
The items sold by the vendors found throughout the facility are not necessary for crafting, nor does the player need to talk to any of the researchers to advance their crafting skill.
With the Crafting revamp introduced with the Season 9.5 patch on 17 July 2014, the map isn't accessible anymore. Currently it's unclear if the maps will be re-worked or re-enabled at some point, or if the associated Diplomacy missions will be moved to other locations.
See also
[
]
External links
[
]
---
Hubs, Starbases and Adventure zones
Federation
Social
Earth Spacedock • Earth Spacedock (23rd Century) • Deep Space K-7 • Starbase 39 • Starfleet Academy • Starfleet Academy (23rd Century)
Mission
Facility 4028 • Deep Space K-13 • Delta Volanis Science Station • Donatu Research Station • Donia Space Station • Jupiter Station • Sierra Outpost II • Starbase 1 • Starbase 24 • Starbase 80 • Starbase 82 • Starbase 114 • Starbase 157 • Starbase 234 • Starbase 236 • Starbase 375 • Starbase 621 • Korvat Medical Lab • Omar Space Station • Outpost Quebec Alpha • Penal Colony 47 • San Francisco Fleet Yards • Tazi Space Station • Treasure Trading Station • Utopia Planitia Shipyards • Vulcan Space Dock
Klingon
Social
First City (Qo'noS) • Ganalda Station • Klingon Academy
Mission
Lackey Listening Post • Bomari Listening Post
Romulan
Social
New Romulus Command • Romulan Flotilla
Mission
Gasko Station • Rh'Ihho Station • Vauthil Station • Virinat • The Vault
Other/
Neutral
Social
Captain's Table • Deep Space 9 • Delta Quadrant Command • Drozana Station • Dyson Sphere Joint Command • Hathon (Bajor) • Kobali City • Risa • New Romulus Staging Area • Paradise City
Adventure
Lohlunat Festival • New Romulus • Nimbus III • Q's Winter Wonderland • Solanae Dyson Sphere
Battle
Badlands Battlezone • Borg Invasion of Defera • Gamma Quadrant Battlezone • Kobali Prime • Tholian Incursion • Tzenkethi Battlezone • Voth Battlezone • Undine Battlezone
Mission
Deferi Outpost 3 • Dyson Sun Control • Kyana Research Station • Na'kuhl Temporal Facility • Outpost 001 • Station Alpha • Suliban Helix • Storage Facility Z98 • Terok Nor (mirror)