GTA: The Criminal Enterprises - The Loop
Play Sound

Mena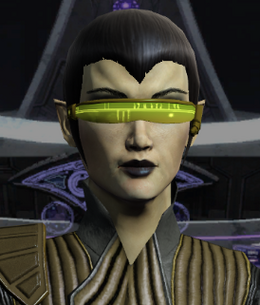 Military Rank:
Romulan Commander
Profession(s):
Mission giver
Intelligence operative
Mena is a Romulan serving as an operative for Republic Intelligence.
History
[
]
Formerly a member of the Tal Shiar, she was forced out of the organization by Hakeev after she began to question his motivations and loyalties. Some say that her time in deep cover with the Tal Shiar affected Mena's mind, but she believes that it has enabled her to see that the Tal Shiar are truly wrong. She believes D'Tan is a great man, but a man of peace, and has pledged herself to handling affairs which he is not equipped to deal with.
Missions given
[
]