Mesi Achebe

Mesi Achebe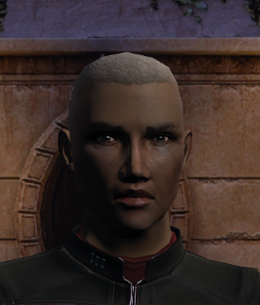 Profession(s):
Mission giver
Commander Mesi Achebe is a female Human Starfleet officer assigned to the Bajor System.
Prior to the crisis on Deep Space 9, Achebe was posted to Eta Eridani, coordinating refugee transports. Her experience with such a chaotic environment made her well-suited to her later posting on Bajor after the evacuation of Deep Space 9.
"Second Wave": In 2409, Commander Achebe summons the player to the conference at Deep Space 9. Following the Dominion invasion of the station, she is part of the allied forces retreating to Bajor.
"Of Bajor": On Bajor, Commander Achebe coordinates the retaking of Deep Space 9.
Mirror Mesi Achebe is mentioned by a Bajoran checkpoint officer serving the Terran Empire on Hathon, who stated that Commander Achebe's authorization was required if the player wanted to pass through the checkpoint.